SXSW: Expert Reveals How 5G and VR Can Transform Journalism
Nonny de la Peña sees big things for storytelling.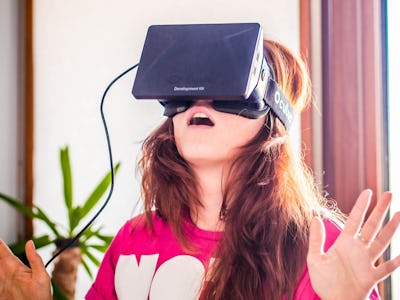 Flickr.com/Sergey Galyonkin
Newswriting could get a whole lot more immersive, and it could transform how people empathize with story subjects. Nonny de la Peña, a journalist telling stories in virtual reality, sees these new technologies as making people more empathetic to subjects.
"I think you're really hardwired to have this digital representation as being incredibly powerful, this sense of presence," Peña said at the South by Southwest Conference in Tuesday in Austin, Texas.
Peña is well-versed in the potential for virtual reality storytelling. Dubbed the "Godfather of VR," she has spent years working with creators to bring stories to life. One of her first works in the virtual sphere was Gone Gitmo in 2007, a project with artist Peggy Weil to bring Peña's 2004 documentary Unconstitutional to a new medium, with features like a legal black hole to show how inmates find themselves without judicial aid. The pair used online game Second Life to create the work, later updated for Unity3D in 2013 as a first-person experience. She later moved on to create virtual reality experiences like Hunger in Los Angeles, Project Syria and Hunger in the Golden State, placing people in the shoes of those affected.
"We're looking at a new medium that's here to stay, and we need to be thinking about how to use it," Peña said at a 2011 conference at USC Annenberg.
Watch an explainer of Gone Gitmo below:
These virtual immersion experiences aren't just a novelty. A virtual reality film created by Peña and Planned Parenthood released in November 2017, Across the Line, placed viewers in the shoes of someone entering a health center for a legal abortion. After watching the film, three-quarters of those with moderate or conservative views said they would support legislation that keeps protesters away from clinics, and two-thirds said they were more likely to support candidates that supported clinic access.
While Oculus Rift and HTC Vive are showing what a wired machine can do, Peña sees 5G technologies as a way to untether people and bring these experiences to mobile devices.
"5G is coming," Peña said at SXSW. "Don't be afraid to push the envelope! If you want to do some more data-intensive stuff, [cell carriers] are all looking to show what 5G can do."
Journalism may never be the same again.