MoviePass's Crazy Popular Subscription Deal Immediately Crashed Site
'We're pumped that you're excited about our $9.95 plan!!' the company responded.
by Monica Hunter-Hart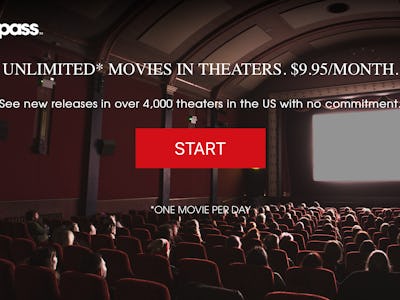 MoviePass
If you heard about MoviePass' new $9.95 subscription plan on Tuesday and immediately tried to join, you may have encountered some problems. As it turns out, that's what everybody did, and the flood of traffic crashed the website.
Well, it seems like this deal is going to be popular.
"We're pumped that you're excited about our $9.95 plan!!" the company's Twitter account tweeted at 4:20 p.m. Eastern on Tuesday. "Thx for your patience as we work to get the site/app back up and running!"
If you were one of the lucky few who managed to get in before the issues began, you would have seen this lovely, working site:
But unlucky souls got this dud:
No word yet on how long it will take the site to be back up. Inverse reached out to the company but has not heard back.
MoviePass is counting on getting a surge of subscribers for its new plan, not because they're profiting off of each participant (they're actually losing money), but because they're trying to gather massive amounts of data to use later in advertising.
If this initial flood of traffic is any indication, it seems that MoviePass has rightly figured out that the only thing keeping us from seeing more films in theaters is high ticket prices.
"People really do want to go [to the movies] more often," Mitch Lowe, company CEO, told Bloomberg. "They just don't like the transaction."
Nor do they particularly like getting shut out of a website; but as long as moviepass.com gets up and running soon, this endeavor seems poised to be a huge success.