How to Get MoviePass, the $10 Movie Theater Subscription
Somehow, the deal is real.
by Monica Hunter-Hart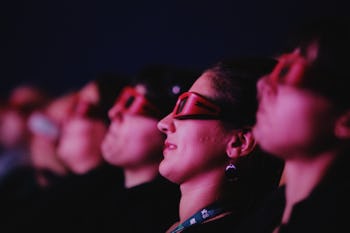 Getty Images / Dan Kitwood
Let's face it: Going to the movies rarely feels worth it anymore with the rising ticket prices, inflated food and beverage prices, and the hassle of traveling when you could just watch a film on your laptop. But MoviePass just dropped a subscription deal that could change the entire cinema-going game.
Pay $9.95 a month, and you'll get to attend one 2D film per day at any movie theater in the United States that accepts debit cards.
Yep, you read that right. It's the price of a Netflix subscription — and nearly half the price of some movie tickets in New York City — but somehow it's real. MoviePass will reimburse theaters for the full cost of each ticket.
How do you get one of these beautiful subscriptions? The new plan launched Tuesday, so you can start now. Here's how you do it.
1. You need an iPhone or Android phone.
Why? Because the only reason MoviePass thinks this money-hemorrhaging operation will ultimately be profitable is because it's going to collect data about you. You'll get a nice bang for your buck right now, but later MoviePass will use its new knowledge about your movie-going habits to hit you with targeted advertising (or sell its data to other advertisers).
"It's no different than Facebook or Google," Ted Farnsworth, CEO of Helios and Matheson Analytics Inc., which just bought a majority stake in MoviePass, told Bloomberg. "The more we understand our fans, the more we can target them."
2. Buy a subscription online.
First, go to moviepass.com and click "start." Follow the instructions to purchase a subscription; it only takes about two minutes. You'll need to input a shipping address in addition to your billing information so that MoviePass can send you a card.
If you already have a different MoviePass subscription, just update your plan online. The new plan will go into effect on your next billing date.
3. Wait for your card in the mail.
You should receive the card within 5-7 business days after you get a subscription.
4. Buy tickets at a kiosk or box office and enjoy the show.
As soon as your card arrives, break that baby in. Buy tickets in the usual way, at a kiosk or box office, but use your MoviePass card instead of cash or a normal card. You will get in for free!
MoviePass guarantees that this $9.95 deal will last for at least 12 months.