Tesla Is Not Starting Solar Roof Installations on June 30
The company has yet to announce an official date for the first installation.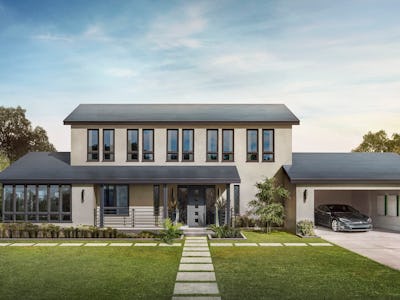 Tesla
Installations of Tesla's new solar roof are supposed to start sometime this summer, but despite an enterprising Bloomberg report published Tuesday, Tesla representatives says installations will not be starting this Friday, June 30.
The June 30 prediction in a feature story by Tom Randall of Bloomberg predicts that the first Tesla solar roof installations are scheduled to occur Friday, based on the fact that in Tesla's initial announcement of the roof, the company said that installations would start in June in California. However, Tesla tells Inverse that this will not be the date of the first solar roof installation. Despite high anticipation for the first installation of the Tesla solar roof, the Tesla team is still working out exactly when and where the first installations will occur.
"We do not have our first Solar Roof being installed on Friday," a Tesla spokesperson tells Inverse when asked about the date of the installation. "No, this is incorrect."
Bloomberg published the date as part of a review of the timelines on all of Elon Musk's projects, and included the Friday Solar roof installation date as part of the story. The graphic suggests that solar roof installations are supposed to start on June 30. "This is misinformed," says a Tesla spokesperson. However, since Bloomberg is working to track how well Musk's projects stay on timelines, basically this means that Tesla is going to start installations later than the company initially announced when orders for the Tesla solar roof opened up back on May 10.
Unlike your typical visible solar panels, Tesla's solar roof is made of tempered glass tiles. The solar elements are included in some of the tiles to maximize the solar energy captured, and are impossible to distinguish from the ground. Within 16 days of opening orders, the tiles were sold out until 2018.
Despite being close to the first Tesla solar roof installations, the company hasn't announced an official date of when or where the installations will occur. We do know that when the solar roofs start to roll out on homes, installation will take about five to seven days, which is about as long as it takes to install a clay tile roof. The tiles will also be installed by SolarCity teams, a solar company that Tesla purchased in November of 2016. And since Tesla hasn't announced a date, and won't be installing solar roofs on Friday, we are just going to have to wait a little longer to see what the first solar roof installation will look like.