Facebook Shares Its New Mission at First-Ever Communities Summit
Changing the world starts with building connections.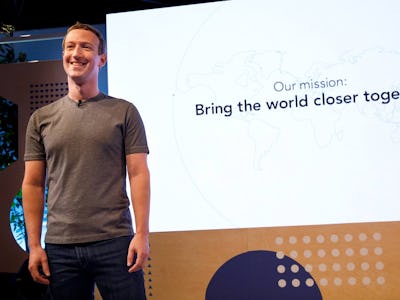 Mark Zuckerberg
On Thursday, Mark Zuckerberg announced that Facebook is changing its mission statement to focus on bringing the world closer together.
While at Facebook's first-ever communities summit in Chicago, Zuckerberg declared that Facebook's new mission statement is to "give people the power to build community and bring the world closer together." The statement highlights that Facebook is working to connect strangers who share interests in order to build meaningful communities on the platform. In order to do this, the company is releasing five changes to groups to make it easier from people who lead groups to grow and manage their membership.
"If you don't feel supported here at home, it's hard to care about people in other places," Zuckerberg said. Having meaningful connections and communities build important support structures for people, he said. So in order to build that support, and get people to be able to be involved in the global community, Facebook has turned its attention to creating meaningful communities on its platform.
Zuckerberg was unclear exactly when the changes would come to groups, but Inverse has reached out to Facebook and will updates when we know more. The big changes coming to groups are five new features:
Member Insights: Group leaders will be able to see information about when the group is most active and metrics around posts to help build engagement.
Demographic Filtering: Group leaders will be able to sort join requests by information like gender and location. Along with the sorting, leaders will be able to approve or deny join requests in batches, instead of individually.
Remove "Bad Actors:" In his talk, Zuckerberg highlighted that groups will be able to remove disruptive members and all of their content in a group in a single action. This is intended to help make groups safer spaces.
Post Scheduling: Admins and moderators will be able to schedule posts in advance within a group.
Linked groups: Facebook is testing a feature that allows group leaders to suggest similar groups to the people within their own group.
"Communities give us that sense that we are part of something greater than ourselves, that we are not alone, and that we have something better ahead to work for," Zuckerberg wrote in his post about the changes. And the goal is to build a better, more connected world around that idea.