Uber CEO's Email to Employees: I Have to 'Work on Travis 2.0'
It's been a long few weeks.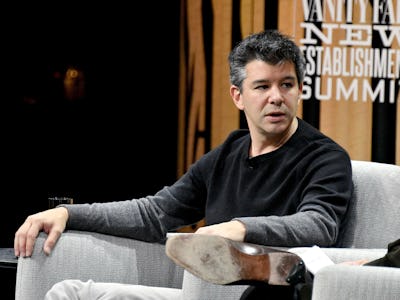 Getty Images / Mike Windle
Travis Kalanick, the longtime CEO of Uber announced Tuesday that he will be taking a leave of absence from his position in the wake of the culmination of the investigation into Uber's corporate culture that's been described as "toxic" over the past few months.
Kalanick announced his leave in a sometimes strangely worded, company-wide email, in which he expresses his desire to "work on Travis 2.0" in order to be able to better construct a leadership team for Uber's future. Read the full text of that email below. The length of Kalanick's leave isn't spelled out in the email but reports over the weekend cite sources at Uber saying it could be three months.
Team,
For the last eight years my life has always been about Uber. Recent events have brought home for me that people are more important than work, and that I need to take some time off of the day-to-day to grieve my mother, whom I buried on Friday, to reflect, to work on myself, and to focus on building out a world-class leadership team.
The ultimate responsibility, for where we've gotten and how we've gotten here rests on my shoulders. There is of course much to be proud of but there is much to improve. For Uber 2.0 to succeed there is nothing more important than dedicating my time to building out the leadership team. But if we are going to work on Uber 2.0, I also need to work on Travis 2.0 to become the leader that this company needs and that you deserve.
During this interim period, the leadership team, my directs, will be running the company. I will be available as needed for the most strategic decisions, but I will be empowering them to be bold and decisive in order to move the company forward swiftly.
It's hard to put a timeline on this - it may be shorter or longer than we might expect. Tragically losing a loved one has been difficult for me and I need to properly say my goodbyes. The incredible outpouring of heartfelt notes and condolences from all of you have kept me strong but almost universally they have ended with 'How can I help?'. My answer is simple. Do your life's work in service to our mission. That gives me time with family. Put people first, that is my mom's legacy. And make Uber 2.0 real so that the world can see the inspired work all of you do, and the inspiring people that make Uber great.
See you soon,
Travis
Kalanick's withdrawal from the day-to-day at Uber is the latest result of the Covington report led by former U.S. Attorney General Eric Holder in the wake of a damning blog post by former Uber coder Susan Fowler, published in February, about the sexually aggressive environment at Uber, one that was not apparently not helped by Kalanick's own behavior as CEO. Uber fired 20 employees on June 7, also in conjunction with the investigation that concluded on Tuesday.
The investigation produced a lengthy report with recommendations for Uber to improve. Chief among those recommendations was to "Review and Reallocate the Responsibilities of Travis Kalanick."
The report also stresses the need for more focus on diversity in the workplace and said that the company should make more use of performance reviews to hold "senior leaders" accountable for discriminatory or other inappropriate workplace practices.
An empowered senior leader who is responsible for diversity and inclusion is key to the integrity of Uber's efforts. Uber should elevate the visibility of the current Head of Diversity, Bernard Coleman, and emphasize the outreach component of Mr.Coleman's position. Uber should increase the activities and communications of Mr.Coleman's team.