What It's Like to Drive a Car Through a 'Star Wars' Battle Scene
The world's first virtual reality car commercial is a total joyride.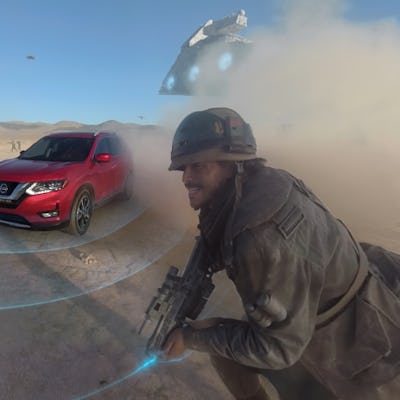 Nissan North America
I slipped a virtual reality headset over my eyes and the real world evaporated.
Where I had once been standing in the LucasFilm studios in San Francisco, I found myself instantly transported to the Mojave Desert. Perched in the sand before me is a Nissan Rogue, the car company's best-selling vehicle. A lifelike character decked out in Star Wars regalia approaches, telling me that I'm to put the car through a test of its safety features.
The next thing I know, I'm speeding through the desert from the driver's seat, evading spaceships and laser gun fire all around me. Though I'm not actually touching the wheel or the pedals, the virtual reality perspective follows my head as I look around, and it feels like I'm really there. When the car's automated blind spot warning goes off, I look over my right shoulder to identify a gigantic chicken-walker looming aggressively over me. It was so stunning that I muttered an expletive, forgetting I was in a room full of Nissan executives and LucasFilm producers.
Nissan and LucasFilm have struck cross-promotional gold with this five-minute virtual reality experience, called Battle Test. "There are new technologies coming to the automotive space every day. They might be difficult to demonstrate to a prospective customer on a test drive, so we're using new technology to show them off," says Jeremy Meadows, Nissan's senior manager of marketing strategy. His Star Wars cufflinks bear the Imperial insignia; you can tell he's happy to be here.
Outside of being a transcendent break from reality, this thrilling, fictitious "ride" serves the business purpose of raising Nissan brand awareness in a compelling way. As all matter of simulated sci-fi danger threatens you in the driver's seat, the car's various systems activate throughout to provide an entertaining demo of how they would operate in the real world. It might be fairly contextualized as the world's first virtual reality commercial, but it's one you'll enjoy watching.
"With respect to both visuals and sound, this is by far the most complex 360 VR project we've ever done," says Hayden Landis, Associate Visual Effects Supervisor for LucasFilm's Industrial Light & Magic. "We're targeting a level of parity where we can say this is film-quality work, we're making an immersive cinematic experience."
Nissan plans to showcase the experience everywhere it can, making it available from auto shows to Nissan dealerships to the general smartphone-wielding public. This thing is best enjoyed on a high-fidelity VR headset like the Oculus Rift, but you'll still be able to cruise through a Star Wars battlefield even if you don't have special gear; Facebook's 360 VR platform will make this instantly accessible to someone willing to tilt their smartphone.
"Those methods aren't as immersive as the headset, but customers can still walk away understanding how things like our blind spot warning and forward emergency braking work," says Meadows. "We recommend the headset experience, because represents state-of-the-art work in this dynamic, emergent medium. George Lucas's crew knows a thing or two about creating compelling effects."
"Right now, VR is comparable to the early days of 3D film," says Kevin Bolen, audio designer for Skywalker Sound. "The analogy we use is from the first time people saw recorded film of a train coming towards them in a theater. They scattered out of the way to avoid being hit. That's the type of visceral experience you have when you're fully immersed in one of these experiences."
This five-minute dose of sci-fi eye candy is so well done that it begs the question: will we ever have comparable feature-length explorations? My only complaint about Battle Test is that I wanted more of it. Bolen says we'll eventually be watching full-length VR "movies," but "it would require an intermission so that the audience can have a breather."
For its part, Nissan says it's invested in using VR to shape the future of the automotive industry. Without disclosing any specific numbers, Meadows said the project's cost was "about the same as a national TV spot, maybe a little more."
It's marketing money well spent. Battle Test is certainly more personal and enjoyable than any car commercial you'll ever see on television. You can watch it in your browser right here, right now: