What Makes These Chat Apps Popular in Certain Asian Countries
The reasons behind each country's preference.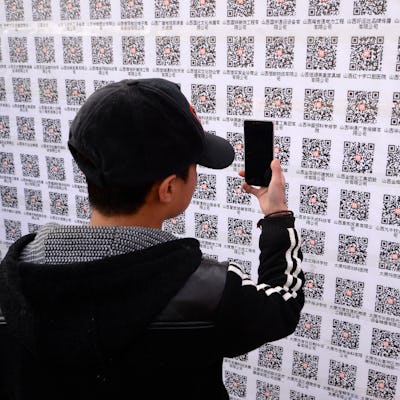 Getty Images / VCG
Keeping track of people is complicated. For my relatives in Asia, I have to use a different app: With my Taiwanese relatives, I use LINE. With Chinese friends and my parents, I use WeChat. With relatives in the Philippines, I mostly use Facebook, and sometimes Viber.
Messaging apps have amassed popularity around the world for different technical, legal, and cultural or langague reasons. Different countries have different popular chat apps that are not just texting and social media, but often have functions similar to what you see in Tinder, Venmo, or Uber.
When my parents first made me download these apps, I thought it was pointless. Plus, my grandma often sent me voice messages, and I'd have to take time to play them back. Why not just use email or Facebook?
Why Different Countries Use Different Chat Apps
But now, WeChat is one of my most-used apps. When I studied abroad in Beijing, Google, Facebook, Twitter, were all blocked, thanks to government censorship. Meanwhile, WeChat became the main way I texted friends I made in China. We formed WeChat groups and traded stickers and GIFs. And my parents started using it more as well, to keep in touch with Chinese friends. To this day, I'm proud of the extensive GIF collection I've amassed.
WeChat, which is most popular in China, has over 846 million monthly active user accounts. LINE, which is popular in Taiwan and Japan, has 220 million monthly active users (80 percent of Taiwan uses LINE). And Viber, popular in Europe and also used by people in the Philippines, had over 249 million active users. And these are just a few of the messaging apps used by millions worldwide.
One of my cousins in the Philippines, Mark Tan, uses Viber for group chats with his friends and for amateur sports teams he's part of.
"I have a group for our Monday football sessions, Thursday basketball sessions. It's mostly my group messaging app. Even our family's chat is in Viber," Tan tells Inverse. "I think [Viber] was one of the first apps like that that came out (in the Philippines) and one of the best."
These apps are often multifunctional, working as a single app that takes on the tasks of multiple apps. You create group chats, send photos and files, play games, collect and trade stickers, and call your friends, but there are some additional special features.
For example, on WeChat and Viber, you can send money, and on WeChat and LINE, you can locate people near you — and possibly find your next date. And since WeChat is so dominant in China, you can also make reservations, pay restaurants and your friends, order a taxi, play games, track your daily footsteps, and more.
"It's multifunctional. Besides communicating, you can buy things, pay money, get a taxi," Zhao Ning, who works in education in Beijing, tells Inverse. "People have social habits. People like being connected, so they like using WeChat."
In some cases, there's a different need for different apps across cultures. LINE and WeChat became popular in Japan and China, respectively, mainly because that's where those apps were launched. But the voice recording function is also important. You hold down the record button, say what you want and release it to the virtual world for your friends.
Facebook has this option, too, but it's not emphasized in its design. It's one of many features that appears above the text box. In LINE and WeChat, the voice recording button appears right next to the text box.
This feature tends to be more popular in some Asian countries because of language. In English or any other alphanumeric language, you can type words on a regular QWERTY keyboard. But typing in Chinese or Japanese is a bit more complicated.
When I type in Chinese, I use pinyin, which means I'll type the phonetic spelling of the character, press enter, and then select from a list of possible characters that have the same phonetic spelling. However, it's not always convenient to receive voice messages.
"When people send me recordings, it's not very convenient," Paige Wu, a 22-year-old intern in China, tells Inverse. "When I'm in public places or work or a bar, it's not convenient to hear the recordings."
Still, typing can be time-consuming, and when people are in a rush, it's often much easier to press record and send a voice message. "If the message I'm saying is longer and more complicated, I'll record because it's faster than typing," Zhao says. "I often use the recording function, especially when walking or driving."
In some countries, censorship has also contributed to increased use in certain messaging apps. In China and Syria, social media outlets like Facebook and Twitter are blocked.
Meanwhile, Chinese apps like WeChat and QQ fill this void in China, while Syrians have turned to WhatsApp. During the Aleppo strikes, Syrian activists used WhatsApp to spread their stories.
Facebook acquired Whatsapp in 2014, but most of its users are international. In India, for example, Whatsapp has over 70 million monthly active users, and doctors even use it to keep in touch with patients.
We'll continue seeing these messaging apps grow, even in the United States. Now, Whatsapp has 1.2 billion users each month. In 2016, almost 19 million Americans used Whatsapp, and this number is projected to grow to 24.6 million users in 2020. WeChat is expanding to e-commerce, digital publishing, and even the Internet of Things. And it looks like Facebook is aiming to become the one-stop messaging app, as it takes on (or rips off of) Snapchat's functions through its new "Day" feature.
Although the popularity of the app often depends on where it was launched, many have the same goal: connecting people. As we move and migrate around the world, these apps help keep us touch. They'll connect with us across continents, allow us to leave messages for loved ones, and sometimes, even trade some stickers. And when I communicate with my grandma from Taiwan, I'll record a voice message and tell her how I'm doing and what I've been up in New York. WeChat and LINE are some of her first experiences using mobile apps. It might be easier to text, but I've realized that she just wants to hear my voice.