Here's How Much A Ticket On A SpaceX Flight To The Moon Will Cost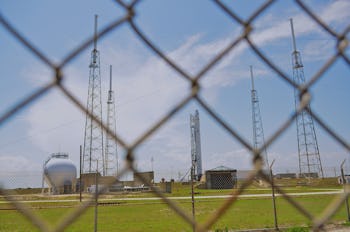 Getty Images / Roberto Gonzalez
SpaceX is sending two private citizens to the moon, and all things considered, it won't cost all that much, if you happen to be a billionaire.
On Monday, SpaceX CEO Elon Musk announced that his company will fly two private individuals — not current astronauts, that is — on a trip around the moon and back on the Dragon 2 spacecraft.
The mission is tentatively scheduled for "late 2018," but depends on a huge number of variables before it can go ahead. The SpaceX press release after the announcement notes that the private flight team has already paid a "significant deposit" to go to the moon and back, but Musk didn't give an exact number as to what a ticket would cost. He did, however, drop a pretty big hint: during the press conference, Musk told reporters that a trip around the moon would cost about the same as a private trip to visit the International Space Station: about $35 million.
But that cost doesn't quite line up with what's on SpaceX's website. The Dragon 2 spacecraft will go into space on top of a Falcon 9 Heavy rocket, which has a listed price of $90 million per launch on a late 2018 timeframe.
However, $35 million could be for a ticket, singular. The first private mission (and most Dragon 2 missions) will hold at least two astronauts, so it's possible that Musk means the total cost will be more than $70 million, which would put it closer to a current estimate. NASA currently pays Roscosmos about $81.7 million per seat on the Soyuz capsule to get its astronauts to the ISS.
SpaceX will have no shortage of customers — if the cost to fly is around $35 million, there are thousands of individuals with a net worth high enough to justify that cost, assuming they're willing to risk their life in the process. The company wants to conduct health and fitness tests and "begin initial training" for the private astronauts later this year, and said that "other flight teams have also expressed strong interest." We'll find out who the multi-millionaire guinea pigs are "contingent upon their approval and confirmation of the health and fitness test results," and eventually, they'll probably say how much they paid for a round-trip ticket to the moon.