Silver Pants Are the High-Tech Chinos of Tomorrow
Dad pants are getting a major upgrade.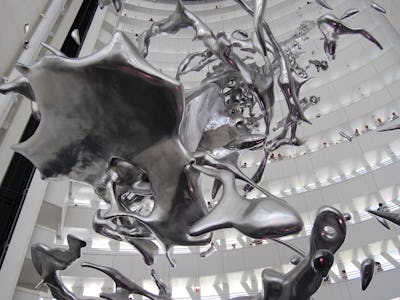 Flickr/blanes_jm
Silver has a number of well-known applications, but its potential for clothing is a relatively recent discovery. With a Kickstarter campaign, entrepreneur and founder of Wonderous Jeff Chang introduced The Forever O.G. Chino pants — the world's first silver-infused chino pants with odor, liquid, and stain resistant technology, and a lifetime size and quality guarantee.
There's a lot to digest in that loaded description, but at its core, the product promises quality that lasts a lifetime. Fashioned from a combination of silk and silver thread, the Forever O.G. pants are fashionable, more flexible, environmentally sound, and more durable than the leading brand of chino pants. Wonderous vows to replace any pants that sustain rips or tears, and to top it off, they'll ship you a new pair if you go up or down a few sizes … for the rest of your life.
To celebrate the official launch of the Forever O.G. Chino pants, Inverse spoke with Chang about how his product trumps other brands in terms of lifetime guaranteed quality and comfort and why pants without silver are a waste of your time.
Could you explain how the silver is incorporated to your product?
So, when they're making a fabric for pants, they usually weave silk threads together and that's how you get fabric. When you weave multiple pieces of silk together, each piece is called a denier, and the larger the denier, the stronger the pants. Our pants are 1000 denier which means that they're five times stronger than the typical pants. And instead of weaving 1000 pieces of silk together, we've replaced about 250 pieces of those deniers of silk with silver.
What benefits does the silver have?
The silver not only makes the pants more flexible and durable to give it that four-way stretch, but also it acts as an odor repellant and kills bacteria in your pants. With normal pants, bacteria seeps into the silk in the fabric so when you wash your pants, you're only washing the top surface of the bacteria off. That's why sometimes clothes still smell after you wash them: because you're using a detergent that's just masking the bacteria smell with a fragrance and not actually killing it. The silver-infused deniers in our product act as a barrier, covering up any pores that might be exposed to bacteria.
What if some bacteria does get into the pants?
There will be times when it does, but the silver will shorten the half-life of the bacteria. So the silver acts as a barrier to keep bacteria out and kills the bacteria that get in much quicker. This allows you to have continuously fresh smelling pants with liquid and stain resistant technology. We've put these pants through the gauntlet — for a month and a half we went to the gym in them, slept in them, went out in them, ran in them — and we've found that you can go 45 days without washing them.
How does the silver strengthen the fabric, in addition to repelling odor?
When you're looking at traditional water-resistant clothing, they usually use some kind of spray for the fabric, which is harmful to the environment, due to the toxins in the spray, and produces a rigid piece of clothing with little breathability or flexibility that may irritate the skin. So, how do you combat that? You have to close up all the pores.
There are two ways to do that: the first is the cheap, environmentally harmful way with the spray that produces bad clothing in the end. We've closed up the pores by using more deniers, increasing the density of the fabric to make it stronger than a normal pair, which uses 200-500 deniers compared to our 1000. Instead of using a spray to create a wall, we're using more of the actual material to do it. It costs more for us but gives you a better product in the end.