Internet Awaits Amazon Prime Day Sequel With Bated Breath
It's Amazon's second shot at Black Friday in July.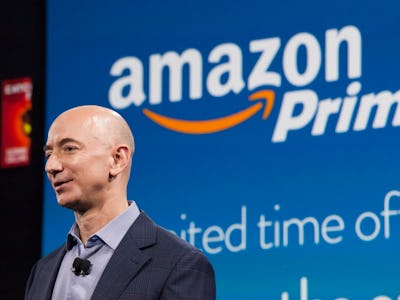 Getty Images / David Ryder
Last year, Amazon's Prime Day went down in history as one of the least exciting made-up consumer shopping holidays ever. The sale's limited offerings were deemed less-than-desirable by a crowd that was hoping for Black Friday-style deals on home appliances and technology. Needless to say, very few people were enthused when the company announced a second annual Prime Day sale, and expectations have run high when it comes to the sale's hopeful comeback tomorrow, July 12th.
Despite consumer backlash across social media, Prime Day was still credited for boosting revenue by two percentage points last summer, with a total of 34.4 million items sold. So no matter what anyone says, the company made more than even last year, and the lessons of its first year are showing in the much more interesting selection available tomorrow.
According to past releases, the sales will include twice as many deals on staples such as smart TVs, phones, tablets, and laptops as Black Friday, with over 100,000 deals available to choose from just for Amazon Prime customers.
Ahead of the sale, Amazon revealed a list of items on sale early, including $300 off a 15" HP Quad-Core Notebook and other gadgets, though the best deals on tech rest within Amazon's brand wheelhouse. Fire TV will be $30 off, Amazon's Echo will be 50% off, and the Fire tablet will start for $33.33.
There's still a bit of dismay surrounding the sale, primarily because it means most customers (at least those who don't cancel their memberships within 30 days) will essentially be paying a $100 entry fee in order to participate in the sale. At the heart of it, Prime Day is about bringing in new Prime subscribers, so if you're not in it for the long haul, keep that in mind.
But this year, with deals that are more competitive with those on Black Friday and other consumer-based "holidays," most Prime subscribers seem hopeful.
Others had advice for marketing future Prime Days:
While a shortlist of deals is already out, most of the company's deals remain a mystery for now. Most of the deals will occur throughout the day, with new discounts occurring hourly, beginning at midnight Eastern time.