Facebook, Microsoft to Build a 160Tbps Networking Cable Under the Atlantic Ocean
The plan isn't to create a super sick Spanish-American Halo LAN party.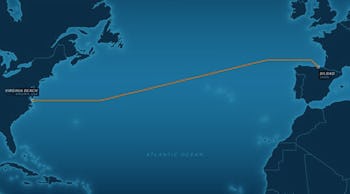 Microsoft
One Hundred and Sixty Terabits Under the Sea.
Facebook and Microsoft are teaming up to run a subsea networking cable from Virginia Beach to Bilbao, Spain, one that includes eight fiber optic paired threads and will boast an overall (potential) capacity for transmitting 160Tbps.
The plan isn't to create a super sick Spanish-American Halo LAN party. Instead, Microsoft says the cabled connection, which should be fully constructed by October 2017, will help provide bandwidth for its cloud services. Facebook is in on the deal as part of its overall plan to spread a better, faster internet (and a better, faster Facebook) across the globe.
Unlike other lines connecting the two continents, the new "open" MAREA technology used in this cable's construction will ensure it remains more future-proof. This means the composite cable's potential 160Tbps speed – the fastest of any subsea cable ever – could be realized once the surrounding optical technology is ready to go. The physical line, once it's created, will be operated and managed by Telxius.
"By creating a vendor-agnostic design with Microsoft and Telxius, we can choose the hardware and software that best serves the system and ultimately increase the pace of innovation," Najam Ahmad, Facebook's vice president of network engineering, said in a release about the collaboration. "We think this is how most subsea cable systems will be built in the future."
For context, the longest subsea cable in use today winds 24,000 miles from Germany to Japan and is capable of 9.2Tbps speeds; in other words, it, too, can pull up a Facebook page in a jiffy.