Mark Zuckerberg Did Damage Control by Having Lunch With These 16 GOP Blowhards
Censorship allegations are not so chill, but neither is lunch with Glenn Beck.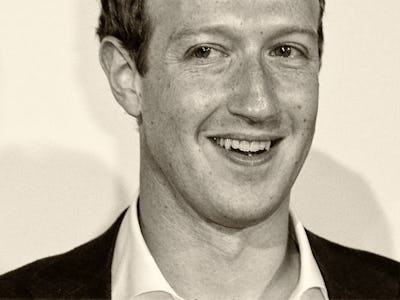 Adam Berry/Getty
Facebook's CEO Mark Zuckerberg had a pretty awkward lunch date today. After a Gizmodo story earlier this month reported that Facebook's "Trending Topics" section routinely suppressed stories from conservative media outlets — which Facebook has denied — the Zuck has been scrambling to do damage control and preserve his company's image.
He did just that today, meeting with representatives from the conservative fourth estate (full list below) and afterward commented:
"I know many conservatives don't trust that our platform surfaces content without a political bias," he writes in this Facebook post. "I wanted to hear their concerns personally and have an open conversation about how we can build trust. I want to do everything I can to make sure our teams uphold the integrity of our products."
When the Gizmodo story piece first came out, Zuckerberg announced Facebook had "found no evidence that this report is true," but agreed to meet with a group of conservative thinkers shortly afterward, so all signs point to this afternoon's meeting being hasty damage control.
Here's the full list. Most are blowhards — in that they get paid to talk a lot, often angrily, as all political pundits — no matter their affiliation — do. Seems as if Zuck hath done his penance this afternoon.
• Jim DeMint, former South Carolina State Senator, Tea Party leader
• Barry Bennett, Donald Trump adviser
• Glenn Beck, do we need to tell you?
• Arthur Brooks, president of the American Enterprise Institute
• Mary Katharine Ham, journalist at Hot Air, CNN
• Zac Moffatt, co-founder of campaign advertising firm Targeted Victory
• Jenny Beth Martin, co-founder of the Tea Party Patriots
• Jonathan Garthwaite, general manager of townhall.com
• Dana Perino, former press secretary for George W. Bush
• SE Cupp, conservative pundit
• Tucker Carlson, conservative pundit, wearer of bow-tie
• Kristen Soltis Anderson, conservative pundit
• Rob Bluey, vice president of the Heritage Foundation
• Brent Bozell, founder of Media Research Center
• Alex Skatell, political operative
• David Bozell, political writer for ForAmerica
Zuckerberg also explained tonight after the meeting that "while Silicon Valley has a reputation for being liberal," Facebook "includes more than 1.6 billion people of every background and ideology — from liberal to conservative and everything in between."
He also mentions the most popular politician on the internet:
"The reality is, conservatives and Republicans have always been an important part of Facebook," said Zuckerberg. "Donald Trump has more fans on Facebook than any other presidential candidate. And Fox News drives more interactions on its Facebook page than any other news outlet in the world. It's not even close."
The post did little to go over the actual results of the meeting, but Zuckerberg stressed the importance of these conversations when it came to the future of Facebook. "It's important that Facebook remains a platform for all ideas and that we continue to give every person a voice."
And here's how they spent their day, a Facebook representative tells Inverse:
Meeting with Mark and other members of Facebook's leadership team: held an open and honest dialogue about the group's experience with Facebook, listened to concerns, and answered questions.
Facebook Training: we offered a training to help participants better utilize Facebook to best engage their audiences and increase reach, including Facebook Live and Instant Articles.
Deep Dive on Trending Topics: Facebook product specialists provided a more detailed deep dive and answered questions about Trending Topics and other products.
Oculus Demo and HQ Tour: For people who were interested, we offered a demo of our virtual reality technology Oculus and a tour of the Facebook campus.
We would love to see political pundits in Oculus Rift headsets. We reached out to Facebook, who's checking to see if anybody donned a Rift.