Facebook Will Discuss Conservative News Scandal With Glenn Beck and Others
Beck said that he hopes to be joined by Carly Fiorina.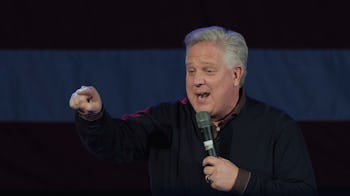 Getty Images
Glenn Beck has accepted an invitation to meet with Facebook to discuss the scandal surrounding the social network's suppression of conservative-centered stories. The talk show radio host plans to meet with officials from Facebook on Wednesday, along with "about a dozen" other conservative figures. Beck said on Sunday that Facebook plans to explain what happened and confirm that it would not happen in future.
"I am going Wednesday," Beck wrote on his Facebook page. "I hope to join business icon and a woman with a spine of steel — Carly Fiorina." A former CEO of Hewlett-Packard, Fiorina became a household name after running for the 2016 Republican presidential nomination, before dropping out and subsequently supporting Ted Cruz's campaign.
Beck said that he hopes to hear from Facebook itself why it made the choices it did in its coverage. "Facebook truly is the only communal experience we now have in some ways," he said. "We need to see what "the other side" is talking about."
A Facebook spokesperson speaking to CNN confirmed that Beck had been invited to a discussion with Facebook, along with several other conservative figures. Zac Moffatt, Mitt Romney's campaign director, and Dana Perino, a former press secretary for the Bush administration, have also been invited.
A story from Gizmodo on Monday suggested that Facebook had routinely avoided adding conservative news to its human-curated trending topics section. The news sparked a quick response from the Republican party and the wider conservative movement, with a GOP-led U.S. Senate committee inviting Facebook CEO Mark Zuckerberg to explain the allegations.
Zuckerberg said on Thursday that he hoped to invite a range of conservative figures to the campus to discuss the controversy. Facebook has been clearly making an effort to make sure the story doesn't spiral out of control; in a display of transparency, the company made public its 28-page trending topics guidelines that same day.