Mark Zuckerberg: I'll Invite Leading Conservatives to Share Their Points of View
"I'll also be inviting leading conservatives and people from across the political spectrum to talk with me."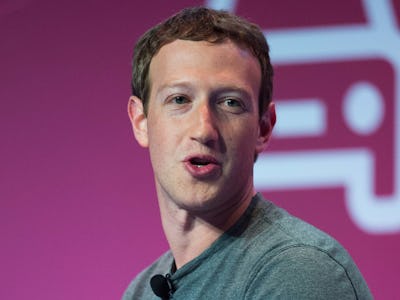 David Ramos/Getty
Facebook CEO Mark Zuckerberg weighed in Thursday night on the bombshell report that the site's news curators, responsible for highlighting Trending Topics, actively censored conservative news.
"We take this report very seriously and are conducting a full investigation to ensure our teams upheld the integrity of this product," Zuckerberg writes in a post on his Facebook page.
He also disputed findings in the Gizmodo report, pledged a full investigation, and recommitted the site to "giving everyone a voice."
"In the coming weeks, I'll also be inviting leading conservatives and people from across the political spectrum to talk with me about this and share their points of view," Zuckerberg writes in the post. "I want to have a direct conversation about what Facebook stands for and how we can be sure our platform stays as open as possible."
A list of people who might be considered "leading conservatives" would include South Dakota Senator John Thune, who earlier this week wrote an open letter to Zuckerberg, asking him to come before the Senate to talk about how Facebook chooses its trending stories. It might also include Paul Ryan, a Wisconsin congressman and Speaker of the House of Representatives; maybe it includes Ted Cruz, even though he prefers Twitter (8.1 million followers); it might also include the GOP's presumptive presidential nominee, Donald Trump (7.7 million Facebook fans).
Following the release of the internal guidelines used by Facebook news to determine trending topics, Gizmodo published allegations from at least one former curator detailing instances when the group had either neglected conservative news, conservative news sites, or even emphasized news more favorable to liberal candidates. The source also alleged that curators treated news about Facebook itself with greater scrutiny than other subjects, typically seeking approval from "higher-ups" before posting it as trending.
In the post, Zuckerberg promised to speak with conservative leaders from across the political spectrum to assuage their concerns about the site's impartiality. Unlike a traditional news site, "Trending Topics is designed to surface the most newsworthy and popular conversations on Facebook," wrote Zuckerberg, and he remains committed to making it so.
The post is unlikely to quell the growing furor in conservative sectors, as it confirms what many have long believed about Facebook and the news media in general. The GOP leadership of the U.S. Senate Commerce Committee has already sent Zuckerberg a letter requesting details about the Trending Topics algorithm and curator functions. The Senate letter did prompt Facebook to issue a statement that covers several of the same points as Zuckerberg's.
To keep the Trending Topics bar updated, Facebook combines information from an algorithm that analyzes what is most popular with inputs from a select group of news curators. These analysts are empowered to override what the algorithm determines is the most popular news on Facebook in only a few instances, including if the news is still early and has not yet permeated Facebook or if is not a "real-world" event like a popular meme.
This small amount of discretion may have ballooned to include news that the curators were less familiar with or even that which they actively opposed sharing. The issue may become less pressing as the objective algorithm takes over more of the work of determining trending topics, but it's likely that some input will always be necessary. The question now is how Facebook can win back the trust of its conservative user base, when it clearly only hires kids who haven't even heard of CPAC.