Here's Why Google's Driverless Car Chief Will Go Before Congress
Because the tech is outpacing the rules.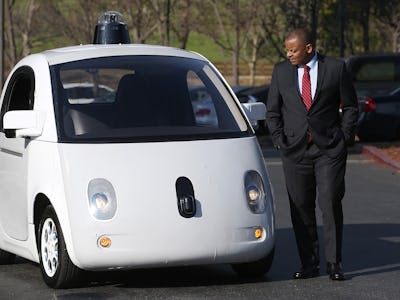 Getty
Since we haven't quite gotten to a point where cars can testify on their own behalf, the head of Google's self-driving car project will have to speak for them on March 15 when he goes before the Senate Commerce Committee.
Google's Chris Urmson will appear at the hearing titled "Hands Off: The Future of Self-Driving Cars" along with representatives from General Motors, Delphi Automotive PLC, Lyft Inc., Duke University's Humans and Autonomy Lab, and Duke Robotics to talk about the rapidly approaching future where self-driving cars are commonplace, and what the laws can do to stay ahead of the technology.
According to the hearing announcement, the members of congress and those special guests will "explore advancements in autonomous vehicle technology and its anticipated benefits for Americans."
Google's Urmson and other guests will also be asked to share their "views on the appropriate role of government in promoting innovation including removing unnecessary hurdles, and their strategy to grow consumer adoption of this new technology."
Urmson's company may be the most advanced on the call sheet, with its self-driving cars clocking 3 million simulated miles every day. Google's been offering test rides since late 2015 and is more recently willing to accept at least some responsibility in a driverless car crash in February. The latter incident is just the kind of thing that will soon need a legal framework.
In January, Transportation Secretary Anthony Foxx said safety regulators will have guidelines for autonomous cars within six months.
You'll be able to watch a livestream of the hearing on the Senate's website and maybe even record it as an amusing historical curiosity for your future six-cylinder bosses and in-laws.