NASA Wants You to Design a Satellite
This is the coolest science competition ever.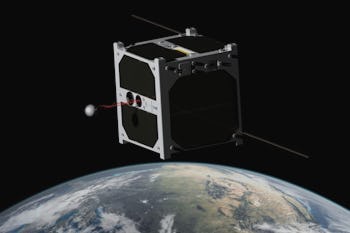 NASA
Time is running out for any "dreamers" to turn their ideas into serious satellite plans.
Back in November 2014, NASA announced the Cube Quest Challenge, which will offer $5 million to teams that can meet the requirements of "designing, building and delivering flight-qualified, small satellites capable of advanced operations near and beyond the moon."
On Tuesday, NASA's Charlie Blackwell-Thompson said there's still time.
"We're calling all young folks…the makers and the dreamers. Give us your good ideas," Blackwell-Thompson said.
The satellites will be carried into space by NASA's new Space Launch System that will make its first flight in 2018; a pregnant machine ready to spew out little science babies all over deep space.
On Exploration Mission-1, SLS will first shoot the unmanned spacecraft Orion beyond the moon. Once Orion reaches a safe distance, it will then release 13 mini satellites called CubeSats. These shoebox-sized techno-science babies have one mission: Pave the way for future humans to explore deep space.
The CubeSat Challenge idea is to make lightweight, affordable mini satellites that can collect data from places we've never been before and maybe tell us something for our mission to Mars.
Contestants will, in a series of four tournaments, compete for prizes, including money and free rides for your science baby. Any non-government U.S. team can compete, but hurry up: The deadline for registration is February 5.
Tournaments will take place on the ground and in space. Three winners of Ground Tournament 4 get a free ride on EM-1 and go on to compete in the Lunar Derby and Deep Space Derby. Unfortunately, the free ride is only for the CubeSats.
NASA will award the max of $5 million to teams that demonstrate the sort of capabilities CubeSats of the future will need: autonomous flight, power management, navigation, propulsion with jets and chemicals, and deep space communication — including communication with lasers.
The Cube Quest Challenge is open to basically anyone, at no cost to the teams. So far there are 12 teams — made up of two parts university and one part small business with a twist of one high school and a single retired engineer. Jim Cockrell, a NASA engineer in charge of the challenge, calls participants "citizen inventors."
If you're smart and creative enough to engineer a satellite the size of a briefcase, it's pretty much worth the effort.