Bliss Out with Bob Ross and 'The Joy of Painting', as Season 3 Appears on YouTube
Bob Ross is here to gently guide you through your next masterpiece.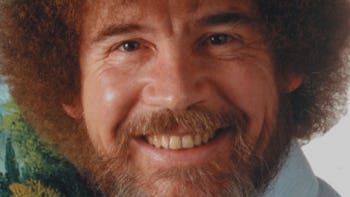 YouTube
If you can't get enough of Bob Ross' gentle whispers, happy clouds, and swirling chest hair, then Season3 o o of The Joy of Painting is here to answer all of your prayers.
All thirteen episodes were quietly uploaded to YouTube on Monday night.
Now, we can see distant hills come into view, straight out of Bob's imagination, any time we please:
The original instructional art program was beloved during its run from 1983 to 1994, but suffice it to say, most wouldn't have expected the new surge of interest in The Joy of Painting. explained Ross' enduring, cultural relevance.
Jesse Janson, Jannson Media's](http://www.janson.com/) Director of Acquisitions, explained Ross' enduring, cultural relevance. explained Ross' enduring, cultural relevance.
"The Joy of Painting appeals on a nostalgic level to viewers who remember watching Bob Ross on TV when they were younger," Janson tells Inverse. "It appeals to artists who are looking to learn how to paint or enjoy watching artists create. It also appeals to people who simply enjoy listening to Bob Ross' calming voice and positive energy."
As for the late artist's demographic, Janson says it's fairly similar to when it first aired.
"On YouTube, our demographic analytics show the channel is about 70 percent male viewers between the ages of 18-35. We are finding that the YouTube release has actually introduced Bob Ross and the series to many new viewers all around the world, which is very nice."
Although the world lost Ross to lymphoma on July 4, 1995, this renewed demand for Bob — whether it be caused by nostalgia, creative hunger, therapy — seems like it will carry on as each new season is uploaded.
"And these are your trees, so you can decide how many trunks are in here." Words by which to live.