A Beginner's Guide to Men's Skincare
You don't have to know it all to make meaningful changes to your self-care regimen.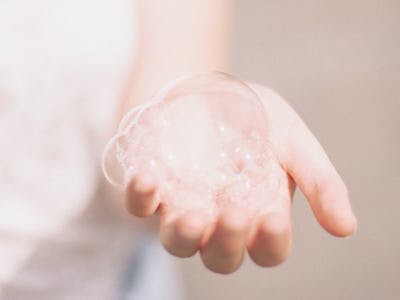 Unsplash / Matthew Tkocz
Listen, I get it. Most men I've known in this life haven't been able to tell the difference between a facial moisturizer and body lotion. I've even witnessed someone put the latter on their face. Let's get it out of the way early and say that that is not how you should be living this life. You deserve to have designated body wash, face wash, moisturizer and lotion for your body and it's not that hard to do.
On this list, you'll find a host of products I've personally found success in getting my partner on board with the concept of self care. Buy one, buy it all, but with just a simple addition of any of these products, you'll be miles ahead of most men. So go on, start treating yourself. I promise you deserve it.
The Physical Exfoliant That Won't Damage Your Skin
Why We Picked It: Oatmeal is one of the oldest pantry ingredients that doubles as a skincare product. If you've ever been itchy, got caught with a bad sunburn or any number of skin issues, a quick google search would have told you to take an oatmeal bath. This is that, but in a pleasant, jarred scrub that takes the mess out of taking care of yourself. Not just for when you're itchy, this Wild Oats Scrub will help you wash away and exfoliate dead and dry skin without damaging your skin's neccessary moisture barrier.
The Invisible Sticker That Will Clear Up Your Most Stubborn Blemishes
Why We Picked It: Drying out your pimples is a thing of the past. Your drug store's Clearsil counter is not going to get you acne free and you are more likely causing more damage than helping. This 3-pack of pimple patches contains 72 easy to use hydrocolloid stickers that will gently pull all the gunk from your blemish and leave you with soft skin that hasn't been dried out by harsh chemicals.
The Moisturizer That Will Keep You Looking Younger Longer
Why We Picked It: If you've ever met someone whose age doesn't match their skin, you've probably been a little bewildered and chalked it up to good genes. That's usually not the whole story. The best mature skin is skin that's been cared for since before signs of aging set in. So if you want to make it to your silver fox years, you have to start now with a deeply hydrating moisturizer that combats the early signs of aging and that's what this moisturizer aims to do.
The Can't Miss Serum Celebrities Use
Why We Picked It: This has been my go-to for over a hundred years now, and I still look 23—that's how good it is. Celebrities, make up gurus and regular people alike swear by it. Dubbed a daily multivitamin for your skin, this vitamin C serum will make your skin look its youngest, its healthiest and its most supple ever.
The Affordable Face Wash That Dermatologists Reccomend
Why We Picked It: Washing your face at the beginning and end of every day is one of the most crucial skincare practices you could ever take on. If you take nothing else from this list, let it be this cleanser. Gentle enough to wash away a day's worth of grime without pulling away your skin's neccessary moisture, this face wash has been recommended by dermatologists for over a decade and for good reason.