Tesla Model S Plaid: release date, price for the luxury EV with serious speed
Tesla's upcoming Model S upgrade is set to give a big boost to the firm's high-end sedan.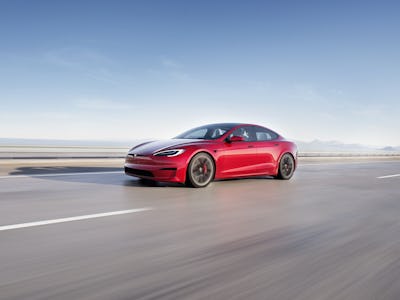 The Model S, Tesla's high-end electric sedan, is about to receive perhaps the largest upgrade in its nine-year history.
On Thursday, CEO Elon Musk revealed on Twitter that the company plans to hand over the first "Plaid" Model S vehicles at a special delivery event. The new version of the sedan will feature a high-performance powertrain that Musk claims will make it the "fastest production car ever."
The first cars will be handed over to buyers on June 3 at the firm's California factory during a special event.
Want to find out more about Tesla's plans to supercharge vehicles? Subscribe to MUSK READS+ for exclusive interviews and analysis about all things Musk.
The announcement signifies a major milestone in Tesla's race to replace traditional gas-powered cars with electric equivalents.
The Plaid powertrain's bizarre name is a reference to '80s sci-fi classic Spaceballs, symbolizing how it's the next level up from the Ludicrous mode featured in earlier versions of the Model S. It backs up this name with an acceleration time of 0 to 60 mph in under two seconds.
The project is also expected to help with bringing electric vehicles further into the mass market. While the first vehicle to use the Plaid powertrain actually features lower battery range between charges than the current 412-mile Model S, an upgraded Plaid+ version scheduled for next year will offer a staggering 520 miles of range at a minimum.
Battery range is regularly cited as a stumbling block to electric vehicle adoption, with a Volvo survey in 2019 finding that 58 percent of non-electric drivers were concerned about running out of power.
Beyond a new powertrain, the car also features a redesigned interior that more closely resembles the Tesla Model 3. The firm also touts a high-end entertainment system in the center console.
Tesla Model S Plaid: what are the specs?
The new Model S is set to impress:
Acceleration time from 0 to 60 mph in 1.99 seconds, which Tesla claims is the fastest of any car currently in production.
A quarter-mile in 9.23 seconds when it reaches a 155 mph trap speed.
1,020 horsepower.
Battery range of 390 miles — less than the 412 miles in Tesla's current Model S.
A top speed of 200 mph.
Tesla Model S Plaid: what is the price?
At the time of writing, the Tesla Model S Plaid is priced at $118,490 before savings.
By comparison, the dual-motor Model S currently on the market will set you back $78,490. The upcoming "Plaid+" model costs $148,490.
Peal white multi-coat is the standard paint choice. Customers can switch to solid back, midnight silver metallic, or deep blue metallic for $1,500 extra. Red multi-coat is $2,500 extra.
Buyers can also switch the 19-inch Tempest wheels to 21-inch Arachnid wheels for $4,500. For the interior, buyers can change the all-black design to white or cream for $2,000.
On the software side, buyers can add a full self-driving package for $10,000. Confusingly, it comes with a disclaimer that "the currently enabled features require active driver supervision and do not make the vehicle autonomous."
Tesla Model S Plaid: what is the release date?
Tesla is expected to hand over the first vehicles on June 3, at its special handover event in California. Beyond these early buyers, Tesla currently estimates a delivery time of between August to September.
These handover events are common for Tesla. The firm kickstarted production on the Model 3 SUV by handing over the first 30 vehicles at the California factory in June 2017. Similarly, Musk handed over the first 10 China-made Model 3 vehicles at a Shanghai event in January 2020.
Fans looking to buy the Plaid+ model will have to wait a bit longer — it's not expected to start hitting roads until mid-2022.
SUBSCRIBE TO MUSK READS+, A PREMIUM NEWSLETTER THAT COVERS THE WORLDS OF ELON MUSK, SPACEX, TESLA, AND EVERYTHING BETWEEN.