SpaceX Starlink: New price strategy, speed, order details for the internet service
Starlink could offer high-speed internet to those that need it most.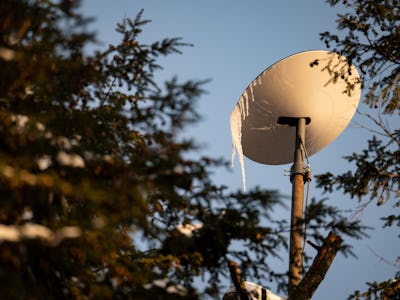 Tim Bieber/Stockbyte Unreleased/Getty Images
Starlink, SpaceX's internet connectivity constellation, is helping people around the world get online — and the price could change to meet their specific needs.
Starlink is designed to help people in areas without access to reliable, ground-based internet get online — so long as they have a view of the sky. Starlink promises high-speed and low latency service without relying on expensive ground-based fiber optic cables or local infrastructure. Just point a dish at the sky, and the supplied hardware will connect to the internet using the satellites orbiting above.
Around the world, countries are getting on board with Starlink. While the service has gradually started shipping out to multiple countries, it's also played a key role in disaster relief efforts in countries like Tonga and Ukraine.
On February 26, CEO Elon Musk posted on his Twitter page that Starlink service is active in Ukraine, with more terminals en route. Previously, Mykhailo Fedorov, vice prime minister of Ukraine, had tweeted to Musk that same day calling for the tech billionaire to provide some assistance to Ukraine amidst the Russian attack on the country.
Then on Monday, February 28, Fedorov confirmed the satellite dishes had arrived in Ukraine, also on Twitter.
SpaceX's approach to the war in Ukraine has been criticized. During the Satellite 2022 trade conference on March 22, Evan Dixon, president of global fixed broadband at Viasat, said in a discussion that "we're doing plenty in Ukraine, but it's not something we publicize and we're not going to [...] we're certainly not going to make publicity out of a war."
In April 2022, the Washington Post reported that the United States Agency for International Development purchased over 1,330 Starlink terminals to send to Ukraine, while SpaceX donated almost 3,670 and footed the cost for service access. This is despite the fact that SpaceX president Gwynne Shotwell said in March that "I don't think the U.S. has given us any money to give terminals to the Ukraine."
Here's what you need to know about SpaceX's internet service.
SpaceX Starlink: What is it?
Starlink is an internet service that promises internet access with high speeds and low latencies. The latter is what sets it apart in particular from other satellite internet services, which can experience latencies in the hundreds of milliseconds. That means internet uses that require lightning-fast response times, like video games or video conferencing, will feel unbearably slow.
The service claims to offer latencies of just 20 milliseconds. SpeedTest claims the average latency for fixed broadband connections in the United States is around 14 milliseconds, which means it's fairly competitive with ground-based services.
It's able to offer these faster speeds because the satellites orbit much closer to the Earth. Where previous satellite internet services operated spacecraft in a geostationary transfer orbit, around 22,369 miles above, Starlink orbits at around 310 miles altitude.
That means much more satellites than ever before. SpaceX has launched 2,335 Starlink satellites, and it's applied for permission to launch up to 42,000. The Union of Concerned Scientists notes that there are only 4,852 satellites in the sky total.
The satellites won't last long in that orbit. The company's website explains that the satellites are designed to deorbit and burn up in the atmosphere after between one to five years.
SpaceX Starlink: How fast is it?
Starlink aims for download speeds of between 100 and 200 megabits per second.
A presentation slide in January 2021 showed that Starlink aimed to eventually reach speeds of 10 gigabits per second.
SpaceX Starlink: What is the price of the service?
Starlink charges $549 for the mandatory Starlink Kit. This includes the router, satellite dish, and everything else required to get devices online. On top of that, users will pay $110 per month for the service. The charges do not include taxes and shipping.
The company initially charged $499 for the kit and $99 for the service. As inflation in the U.S. soared to a 40-year high of 7.9 percent in February 2022, SpaceX took action and raised its prices.
Starlink also offers a premium service for customers that require more reliable connections and faster speeds of up to 500 megabits per second. That costs $2,500 per month for the hardware, plus $500 per month for the service.
The price of Starlink has jumped amid rising inflation. In an email to customers shared in March 2022, SpaceX declared that the initial kit would increase in price by $50 to $549, while the monthly fees would increase by $11 to $110. Although Starlink could bring service to underserved communities, its high price tag places it well outside the realms of affordability for many.
"The sole purpose of these adjustments is to keep pace with rising inflation," SpaceX's email read.
But SpaceX's position on international pricing seemed to change in April 2022, when Musk claimed on Twitter that Starlink "should be proportionate to affordability and in local currency."
The post was made in response to a user that asked Musk to reduce the cost of the service in Argentina. The Starlink website claims that services will expand to Argentina in 2023. Buyers will have to pay a deposit of $99.
Trading Economics lists the average monthly wage in Argentina for private-sector employees at 161,123 pesos, or $1,429. The same source lists the U.S. average hourly wage at $27. That means while it would take the average American around three hours to earn the money for a Starlink deposit, it would take the average Argentinian around two days.
Musk's post represents a marked shift from February 2021, when Musk stated that Starlink is "meant to be the same price in all countries." Musk did indicate at the time, however, that the "cost to end users will improve every year."
SpaceX Starlink: How do I order it to my area?
Getting connected is straightforward. Buyers can visit the Starlink website and input their home addresses. They will then be prompted to pay a deposit equivalent to one month's service.
Unfortunately, it may take some time to receive the Starlink Kit depending on your location. While SpaceX has worked to improve shipment times, in November 2021 it was forced to admit that the global semiconductor shortage had impacted the rollout.
Update 03/24 9 a.m. Eastern time: An earlier version of this story featured the headline "SpaceX Starlink: As dishes ship to Ukraine, what to know about the internet service."
This article was originally published on