This unusual plant-based creamer is surprisingly delicious and has some unique health benefits
We only recommend products we love and that we think you will, too. We may receive a portion of sales from products purchased from this article, which was written by our Commerce team.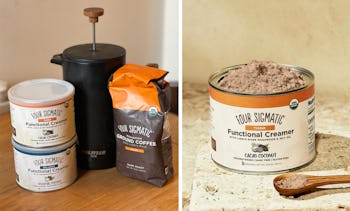 Amy Biggart / Four Sigmatic
I've been a coffee fiend my entire life, and have taken my cup just about every way it comes. I've sipped drip coffee, brewed lattes, and steeped cold brew. And over the years, I've tried just about every plant-based milk and creamer around. There are plenty of plant-based coffee additives that are great, but I was super excited to try out Four Sigmatic's new plant-based creamers, which not only sweeten your cup but also tout some pretty cool gut and brain benefits.
Four Sigmatic's creamer comes in three different flavors, but the two I tried out were the Original Coconut "Balance" flavor, and the Cacao Coconut, "Think" flavor. Each creamer in their line is designed to provide a different benefit. The "Balance" flavor is a plain coconut creamer that is made with ashwagandha and is designed to address stress, while the "Think" flavor is formulated with Lion's mane mushrooms and is aimed at boosting energy and focus.
Mushroom coffee is packed with nutrients like niacin, phosphorus, and potassium, and tends to have less caffeine than traditional coffee. Lion's mane mushrooms have also been shown to support cognition and improve overall brain health. When you couple those benefits with some of the other ingredients in these creamers, they are designed to help you focus and stay energized throughout the day.
The "Balance" flavor, which was created with stress management in mind, is made with ashwagandha, an ancient herbal remedy that has shown benefits for reducing stress and inflammation in your body. Every creamer in this line is also made with MCT oil, a popular staple of the ketogenic diet, and an oil that has been lauded by celebrities as a favorite additive to their coffee drinks.
My experience using Four Sigmatic's plant-based creamer:
While I'll admit I was a little bit timid about powdered creamer, I read the instructions which advise you to put two scoops of creamer into the bottom of your cup and pour your coffee over it. I brewed Four Sigmatic's mushroom coffee in my French press and put two scoops of creamer and a splash of almond milk into my cup. The powder creamer slowly dissolves into your coffee, and I used a spoon to stir it in, which worked well. You could also use a frother like the one included in Four Sigmatic's creamer bundle.
I was pleasantly surprised by the taste of this creamer. While I've tried coconut-based dairy alternatives that have overwhelmingly tasted of coconut, this creamer made the coffee taste lightly sweet and the MCT oil gave it a creamy taste that was delicious. The "Think" creamer has a bit of a chocolate-y taste from the cacao, which I actually really liked and made the coffee even sweeter.
When compared to the "Balance" creamer, Four Sigmatic's "Think" creamer is designed with focus in mind. It relies on the proven benefits of Lion's mane mushrooms to help promote energy and cognitive health. I'll say, while the coffee undoubtedly made me more alert and focused, that could also be due to the caffeine. Either way, a single cup of this coffee and creamer made me feel energized and sharp for my workday.
Four Sigmatic's creamers are also gluten-free, which is a nice benefit for anyone who has struggled with gluten-based digestive issues. In fact, their "Gut Health" creamer levels that up and is made with probiotics that aim to improve your overall gut health. While I didn't sample this myself, the reviews are largely rave. One fan says, "I finally found something that doesn't hurt my stomach! Super smooth and doesn't bother my sensitive stomach."
Final Verdict
As an avid coffee consumer, I can recommend these creamers. If you're ready to level up your coffee and add a few extra health benefits to your morning cup of joe, Four Sigmatic's creamers are so delicious, creamy, and completely plant-based. It's a win, win, win.
Studies referenced:
Sabaratnam, V., Kah-Hui, W., Naidu, M., & Rosie David, P. (2013). Neuronal health - can culinary and medicinal mushrooms help?. Journal of traditional and complementary medicine, 3(1), 62–68. https://doi.org/10.4103/2225-4110.106549
Chandrasekhar, K., Kapoor, J., & Anishetty, S. (2012). A prospective, randomized double-blind, placebo-controlled study of safety and efficacy of a high-concentration full-spectrum extract of ashwagandha root in reducing stress and anxiety in adults. Indian journal of psychological medicine, 34(3), 255–262. https://doi.org/10.4103/0253-7176.106022
Singh, N., Bhalla, M., de Jager, P., & Gilca, M. (2011). An overview on ashwagandha: a Rasayana (rejuvenator) of Ayurveda. African journal of traditional, complementary, and alternative medicines: AJTCAM, 8(5 Suppl), 208–213. https://doi.org/10.4314/ajtcam.v8i5S.9
This article was originally published on