The 2015 Marvel Holiday Gift Guide
Treat the Marvel faithful in your life with toys, movies, hoodies, and more toys.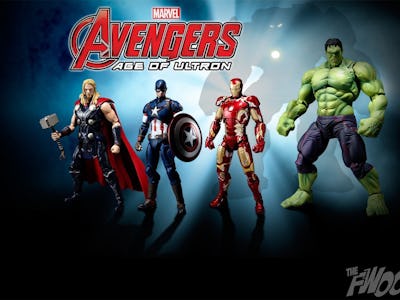 A little arthouse flick called The Force Awakens and its merchandise avalanche has been dominating toy shelves since September. But don't forget the universe of Marvel fans. We're still speeding towards Deadpool and Captain America: Civil War, and enjoying some of the best Marvel television lineups ever.
Not coincidentally, the options for adult and child fans of Marvel properties is diverse, weird, and certain to kick up gift ideas ranging from the subtle to the absurd. Take a gander.
Marvel: Civil War
While any longtime fan will likely already read Mark Millar's Civil War, maybe the younger or newer fans haven't. Correct that with the collected trade paperback of Marvel's popular Civil War series to get them psyched for Captain America: Civil War.
Price: $15.23 on Amazon.
S.H.I.E.L.D. mug
A boring Tuesday morning can be just a little more super with a mug emblazoned with the S.H.I.E.L.D. crest.
Price: $9.95 on CafePress.
Vintage Captain America coasters
A million different comic book-inspired coasters exist on the internet, but we were quite fond of these rectangular pieces with old Captain America covers. Pairs nicely with the mug.
Price: $15.95 on Etsy.
Spider-Gwen hoodie
Tread the line between geek chic and straight-up cosplay with this hoodie inspired by one of Marvel's breakout new heroes.
Price: $48 on WeLoveFine.
DIY Daredevil "Masked Man" costume
Assemble a sick — and accurate — cosplay inspired by Netflix's Daredevil series. Surf Daredeviloutfit.com to get exactly what they'll need.
Price: Various.
Ms. Marvel Vol. 1: No Normal
G. Willow Wilson's acclaimed Ms. Marvel series is everything you look for in a superhero comic book, and way way way more. No one should be missing out.
Price: $14.39 on Amazon.
S.H.I.E.L.D. watch and leather wallet
Take S.H.I.E.L.D. cosplay an inch deeper or just everyday life a lot cooler with ThinkGeek's sleek S.H.I.E.LD.-inspired watch and leather wallet.
Price: $35 for the watch, $20 for the wallet on ThinkGeek.
Jessica Jones' jeans
According to Fashionista, the street gear worn by Krysten Ritter in Netflix's incredible Jessica Jones is denim from Citizens of Humanity, which the costumers bought on Amazon in bulk. While the exact piece has been discontinued, Citizens of Humanity still has a bunch of similar slim and faded women's denim.
Price: $130 on Amazon.
Playmation Marvel Avengers
Finally, something for the kids, amirite? Playmation's Marvel Avengers are smart toys that blur the line between video games and physical play. Players get to carry out Avengers-themed missions and track their progress through mobile apps.
Price: $50 through the Disney store.
Marvel Cinematic Universe: Phase 2 Boxset
As the wildly successful Marvel Cinematic Universe enters Phase 3, movie buffs can complete their collection with the Phase 2 boxset which includes every movie from 2013's Iron Man 3 to this year's Ant-Man. The special packaging comes with a 1:1 scale replica of the Morag Orb, exclusive bonus features (like the wonderful screen test between Chris Pratt and Dave Bautista for Guardians of the Galaxy), and other memorabilia.
Price: $185 on Amazon.
Bandai's Avengers: Age of Ultron S.H. Figuarts
Bandai Japan's S.H. Figuarts are some of the most articulate 6-inch scale figures money can buy. These aren't toys for youngin's, but for the hardest of the hardcore, the exact ones SNL made cry this weekend. Thor, Hulk, Captain America, Iron Man, and War Machine make up arguably the best toys ever made on either side of the Pacific.
The steep prices are due to being genuine imports from Japan, as these figures mysteriously did not get a domestic release. But they are available on Amazon and at your neighborhood anime retailer.
Price: $350 for 4-pack, approx. $72-$100 individually on Amazon.