As the NWSL ends another season, veteran Yael Averbuch predicts its future
The national team made history -- but the future lies in the NWSL.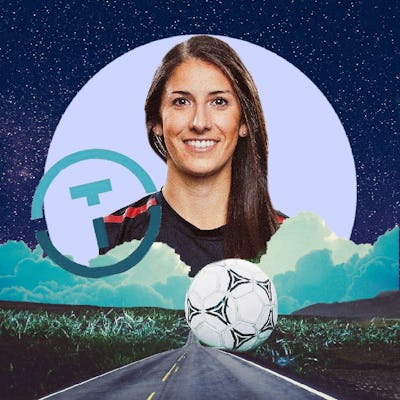 Natasha Chomko, aka POST-WOOK, for Inverse
After the 2013 soccer season, Yael Averbuch was ready to come home. She found success playing professionally in Sweden, but each night she would come home and stream more women's soccer games on her laptop. There were rumors that the US — the home of the biggest and deepest pools of women's soccer players in the world — was going to take another shot at a professional women's league. This would be the third attempt.
That fledgeling league became the National Women's Soccer League, which finishes up its seventh season this weekend. Averbuch, 32, has played two seasons for FC Kansas City, and is now a member of the Seattle Reign and serves as the head of the Player's Association, a role that she was, at first, surprised to see herself stepping into.
That's because when Averbuch left the US in 2012, she was a wide-eyed young player with what is arguably the best soccer pedigree in the women's game: four years at the University of North Carolina Chapel Hill with national team experience. But as she returned to the US in 2014, she realized that she'd become a veteran. She's played abroad, managed to live on a salary of $21,000 a year, dealt with illness and injury, and founded a startup called Techne Futbol. She's also now played in two professional women's professional soccer leagues in the United States.
At this point, Averbuch has seen it all. But there's something different about this year, and she hopes, about this league, that will cement women's professional soccer in the US even as the glory of the summer World Cup title wanes. (On Sunday, October 27, the NWSL Championship game will be held between the North Carolina Courage and the Chicago Red Stars. The game will air at 3:30 p.m. Eastern on ESPN.)
"The goal here is that eventually that it's the league sustains people's careers," she tells Inverse. "The league allows you to make a name for yourself, and then the national team is an extra honor. It's the reverse in our country: the way you make a name for yourself is the national team."
See also: "Why the National Women's Soccer League is hopefully, finally, here to stay," by Yael Averbuch
The "Year of the Woman"
If you didn't already know that the United States women's soccer team is the best in the world, after this summer's World Cup victory in France, you probably do now.
"The goal here is that eventually that it's the league sustains people's careers
The US team dominated the FIFA Women's World Cup, taking the title in front of record-setting number of viewers. In July, they paraded through lower Manhattan in a flurry of ticker tape to celebrate their victory. But as the parades floated by, the atmosphere was shot through a different sense of electricity that extended beyond sports.
Throughout the World Cup, the team has highlighted the fact that their bonuses are six times less than those of their male counterparts. Along Wall Street, there were nearly as many t-shirts with "Equal Pay for Equal" screened on them as there were American flags.
"This is the year of the woman," said Kim Russell, a Brooklyn mother of two who came out to support the team during that July parade. "We have so many women running for president, and we elected over 100 women to congress. It's really culminating in this moment," she said as confetti began to fall.
"We need to close the gap between what it's like to be a national team player, and just a regular pro".
"'Competitive' is such an understatement"
In 1972, a federal law — now referred to simply as Title IX — set the ground for professional women's soccer to flourish when it became mandatory that federally funded schools offer equal opportunities to men and women — including funding for sports. The two sports that have benefitted the most from Title IX are women's rowing and women's soccer: between 2009 and 2019, the amount of collegiate women's soccer programs increased from 318 to 959.
That foundation gave us powerhouse college programs that helped build a powerful national team. UNC essentially became a pipeline into the US national team in the 1990s and 2000s (Mia Hamm won four NCAA titles there between 1989 to 1994). In 1999, the US National Women's soccer team drew a crowd of more than 90,000 at the Rose Bowl during the FIFA World Cup Final, proving that people will flock to watch women play soccer. During that shootout, Brandi Chastain ripped her shirt off in a moment of triumph, that has now been cast in bronze in the form of this statue at the Rose Bowl. The question has always been not if people would watch women's soccer, but if they would do so regularly.
That national-team centric culture has shaped the United States soccer universe. Averbuch's parents were runners, not soccer players, but quickly she says, they became a "soccer family." As Averbuch grew up in New Jersey, going pro was always on her mind.
"I have a journal entry saying: I want to be a professional soccer player from the time I was 9 or 10. So it really threw me into my experience of the sport as like: 'This is what I'm going to do.' That's my personality. I get very singularly focused on whatever I'm doing," she says.
The first step in that direction was to be selected into the Olympic Development Team system — a state-by state all star team, essentially, that help selected the best youth talent. From there, there were regional teams, and national team camps. Finally, she was recruited to play by UNC. That punched Averbuch's ticket into the world of intense senior national team camps.
"'Competitive' is such an understatement," she says. "To understand, take the most competitive environment you've ever been in, and then ramp it up like ten notches," she says. "If the national team went on strike, you could get 30 replacement players who, in their own way, would do a very good job," she explains.
"That's how deep our country is in terms of talent in women's soccer."
Averbuch describes her national team role as a "bubble player." After all, there are only 23 or so spots on the national team, so getting one of those spots is far from a guarantee — even after years of youth national team experience. Still, she made 26 international appearances between 2007 and 2013 and scored one goal.
"I would say, I was like a bubble player for a lot of years," she explains. "I never quite broke in to have a solid spot. Your life is always in flux, because you're planning to be part of it, but also planning to not be part of it just in case."
"I've seen the discrepancy in those two experiences
Now, when Averbuch discusses her time on the national team, she's reflective, a habit borne of years of journaling that she kept up while at national team camps. She learned to focus more on player development and less on the external results of every training session. But she's also direct, as most elite athletes are: "I'm very proud of that fact that I stayed in that pool for so long, but I also never really felt satisfied with my impact on the team, I would say."
The bubble player experience has informed her mission with NWSL Player's Association. She knows what it's like to watch 22 players fly off to a World Cup without you.
That's where having a powerful league becomes essential.
The US has the top national squad in the world, and one of the strongest grassroots soccer development systems, thanks to Title IX, but pro leagues that pre-date the NWSL — like the WUSA (folded in 2003) and the Women's Professional Soccer (folded in 2011) — have faltered.
For "just regular pros," who don't make the national team, a pro league becomes a lifeline and something that Averbuch is determined to see grow.
"As somebody who has been part of the national team, even if it was awhile since I've been in the group, and also has played in the league as a national team player, I've seen the discrepancy in those two experiences," she explains.
"As the national team pushes forward, and is able to make statements about when things aren't right, we need to do the same thing. We need to close the gap between what it's like to be a national team player, and "just a regular pro."
"Just a Regular Pro"
In the absence of a stable league, being a regular pro can mean unpaid bills, seeking contracts overseas and trying to build their own branding outside of the National Team spotlight.
"You struggle to make ends meet, you're always focused on where you're going to be next," she says. "To develop an extra source of income on the side, or continue education or whatever the player is interested in is so important for the stability of the league. These are all things that I needed to do to continue to play after my time with the national team," she says.
That situation in part, helped birth Techne Futbol, Averbuch's app that allows players to access training regimens, participate in international leaderboards, and track their progress against other players from around the world (she's not too worried about training future competition for the USWNT). For her, starting her own business may have been borne of necessity at first, but has since become a passion that she cultivates alongside that of developing the National Women's Soccer League.
The NWSL Players' Association works with athletes to help them develop their own extra opportunities outside of sports as the league still begins to grow. And fortunately, the league, this year is poised to do so. In June, ESPN agreed to broadcast 14 games of the 2019 season. Budweiser signed a multi-year deal with the NWSL, and become their "official beer."
"I think we're on a really good track with NWSL, but a lot needs to happen…"
Back in at the parade in New York City this summer, those showered in ticker tape also pledged to keep watching. They held signs saying, "We Won't Stop Watching, Megan" or "We Won't Stop Watching Crystal."
"We're into the MLS, but lately we prefer watching the ladies. We were just invited to a game at Rutgers on Sunday," said Billy Schiazza, of Brooklyn who sported t-shirt that had "Rapinoe/Bird, 2020" screened on it.
But the hope is that people keep watching, and not just for the names that they've come to know and love because of the World Cup. The World Cup hype is intoxicating, but in the US, the NWSL showcases similar talent on a regular basis.
"I think we're on a really good track with NWSL, but a lot needs to happen to solidify the club structure in this country," Averbuch says. "We love tournaments, we love the single-elimination knockout. Everyone gets on board to watch soccer every four years for the World Cup, but then the understanding that this going on all year, right now, is a little lacking."
One day, the hope is that players will rep their clubs with as much fervor as their country colors. That future may be on our doorstep as the NWSL ends its seventh season, but much Averbuch herself, the league has to fight to survive as it goes through yet another tryout period.
But this time, the players aren't going to let it die — not on their watch.
See also: "Why the National Women's Soccer League is hopefully, finally, here to stay," by Yael Averbuch
Yael Averbuch is a professional soccer player and member of the Inverse Future 50, a group of thinkers and doers who will be positive forces for good in the 2020s. Follow Yael on Twitter at @Yael_Averbuch.