Smart Home Products That'll Make You Feel Like the Future Has Arrived
Allow your house to do the hard work for you.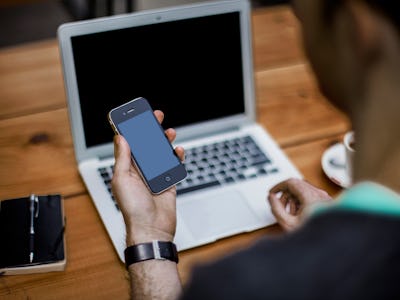 Unsplash / Alejandro Escamilla
I start every one of these articles with the same reminder. The future The Jetsons imagined for us has pretty much arrived and with that comes an additional layer of convenience that might at first seem foreign. But allow me to frame it this way, you work hard every day of your life, you deserve to come home to a house that fills in the gaps of what you might not always have the energy for. This is included but not limited to vacuuming, cooking, home security, pet care and more.
Many of these smart home items pair seamlessly with companion apps on your phone so that you can always be in control without outwardly expending energy. If you're not sold on the concept yet, think about your aging parents. Sure, technology is fickle and new to them, but in areas of accessibility, smart gadgets can aid in communication, mobility and independence in new ways that were easily thrown to the wayside in the past.
So go on, bring your dumb house into the future of smart homes.
For Home Security
Why We Picked It: If you've suspected nefarious action taking place at or near your house or you just like the added peace of mind that comes with comprehensive home security, this 2 pack of Alexa-compatible HD spotlight cams from Ring will bring you all of that and more. This particular version is standalone so it never needs to be recharged or have its battery changed and you never have to worry about black outs in your coverage.
For Gaining Smart Controls Over Dumb Appliances
Why We Picked It: You don't need to switch out everything in your house to turn it into a smart home. With these smart plugs, you don't even need a hub to control them. Set up is easy and fast, pairs with your existing WiFi system and/or Alexa so that you can control your lights, Christmas tree and even CrockPot from anywhere you can access an app.
For Conveniently Checking In On Your Pet, Elder Relative or Baby
Why We Picked It: This 360 degree rotating camera will give you coverage of an entire room with ease. The built-in night vision, motion detection and 2-way audio are necessary additions to bringing you the highest quality video within 32 feet of a given subject. So if there's ever a reason that you need to leave home, you can rest assured that your pet or elder relatives are cared for, but it also works well as a nanny cam/high tech baby monitor for children who sleep in their own room. Capture a particularly great moment? You can save it to your Cloud for years to come.
For The Person Who Always Forgets Their Keys
Why We Picked It: I grew up in a house where the doors were never locked. We lived in what my parents considered a "safe" neighborhood and as such, I never really learned to keep my keys on me. For years I lost or misplaced or forgot my keys at every chance, most times at the most inconvenient times. With this smart door lock, you can choose a code that your friends, children or pet sitter can remember so that you never have to be the one home with a key to let them in. NexTrend is even able to detect and automatically lock the door if it's left unlocked by accident.