LittleBits' Ayah Bdeir Is Filling STEM's Diversity Gap, Block by Block
"If there's no solution to a problem that you see, it's up to you to create it."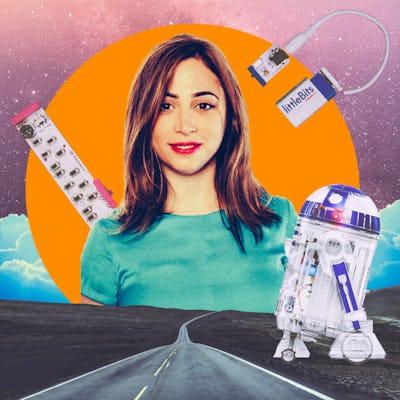 Natasha Chomko, aka POST-WOOK, for Inverse
Picture the New York Toy Fair as something akin to Santa's workshop, but the elves are replaced with suited executives. As the clipboard-carrying adults shuffle between Beanie Baby-lined booths and dodge an incoming hug from Clifford the Big Red Dog, Ayah Bdeir leans in to her publicist and says: "It's weird that there are no kids here."
Bdeir, 37, is the CEO and founder littleBits, a toy company that has taken up the ambitious mantle of teaching children how to become inventors. LittleBits makes small, brightly colored "bits" that snap together and form circuits, allowing kids to create inventions from ferris wheels and droids to freeform circuits.
In 2013, CNN listed the company as one of its 10 emerging startups and garnered a Gold Award from the Industrial Designers Society of America. Today, littleBits partners with 20,000 schools across the world, and in early April 2019, it announced a partnership with Disney called "Snap the Gap," intended to help close the gender gap in STEM fields.
Bdeir is a former mechanical engineer and graduate of the renowned MIT Media Lab. She's just over 5 feet of intense energy and has a keen eye for detail borne from her engineering background. She's the kind of person who can walk around an industry toy fair and immediately notice who might be missing, and design a solution.
"I've always sort of thought that if there's no solution to a problem that you see, it's up to you to create it," Bdeir tells Inverse.
LittleBits is Bdeir's latest solution to a problem she's noticed over her career. If you take a look at the fields of science, technology, engineering, and math (STEM), there are a lot of different types of people missing from the ranks.
Bdeir didn't come to the Manhattan convention center to merely sell toys.
See also: Who Can Be an Inventor? Society Has the Wrong Idea About It
Instead, she came to sit on an expert panel advising toymakers on how to craft toys that spark a love for science, technology, engineering, art, or math (STEAM). Her panel on defining STEAM toys may have drawn a small crowd of nerdy parents decades ago, but in 2019 the room is more than two thirds full (between 100 and 200 people) despite two competing events, and the audience includes two representatives from Amazon to attend the panel — they waited at the end of a line that stretched across the conference room to meet her personally after the panel concluded.
STEM toys are officially cool, perhaps because STEM jobs are officially cool, stable, and lucrative. White House documents refer to STEM jobs as "the jobs of the future," and that future is already unfolding. Between 2009 and 2015, the Department of Labor Statistics reported that the amount of STEM jobs increased by 10.5 percent, whereas non-STEM jobs only grew by 5.2 percent. These predictions will likely hold up through 2024, as STEM jobs, especially in computer engineering, continue to outpace the rest of employment hiring.
Bdeir believes that engineering will shape the future, not just because there will be more jobs in science or math fields. She believes that the engineering mindset is what will shape the future even outside STEM.
"In fact, I don't want to create the next generation of engineers," Bdeir says. "That's not at all what I aspire to do," she says.
Read more: Bdeir talks more about why the future of engineering isn't just a science thing.
Instead, Bdeir believes in using the engineering process in any field to solve any problem. The Accreditation Board for Engineering and Technology (ABET), the non-profit that accredits engineering schools across the country, adds that the fundamental elements of engineering design are "the establishment of objectives and criteria, synthesis, analysis, construction, testing, and evaluation." Bdeir has boiled this process down to a four-part "invention cycle":
With these opportunities at hand, the panel at the NY Toy Fair was filled with parents and toymakers eager to inspire children to not only embrace but enjoy the activities that will likely define their adult lives. Even littleBits ad copy reads: "Build 21st century skills through real-world problem solving."
But the company also has a bigger goal, an additional mission that is the bedrock littleBits is built upon.
Despite widespread interest, STEM jobs are overwhelmingly white and overwhelmingly male. Citing 2018 labor statistics, Brookings reports that women account for only 22 percent of the STEM workforce. A 2017 report from the National Science Foundation also reports that Asian and underrepresented minority women account for only one in every 10 people employed in the science and engineering fields. The homogenous composition of STEM jobs shapes the increasingly digital power structure in society.
"It's borderline irresponsible to not address diversity in STEM toys," Bdeir said at the panel. "There's a major problem with diversity in STEM at the adult stage. Tech companies inform how we interact with the world. It's a small group of people who make decisions about the world, and that's dangerous."
"I don't want to create the next generation of engineers. That's not at all what I aspire to do."
A little more than two weeks after Bdeir spoke on the panel, she was served with a stark reminder of how far the field has to go to meet the challenges of achieving parity in STEM when 60 minutes aired their segment "Closing the Gender Gap in the Tech Industry." Bdeir — who initially was supposed to be a central character in the segment — had been relegated to a "brief mention," as was Reshma Saujani, the female founder and CEO of Girls Who Code.
Instead, the segment highlighted Hadi Partovi, the well-intentioned founder of Code.org, a non-profit that teaches girls to code in kindergarten. He is also a man.
The irony of her segment being cut for Partovi's wasn't lost on Bdeir, and Saujani, who both wrote about it on Medium on March 5. Nor was it lost on Quartz, which published this story under the headline "A 60 Minutes Story About Gender Equality Accidentally Proved the Persistence of the Patriarchy" a few days later.
The controversy served over the 60 Minutes segment highlights the issues at hand, but it hasn't distracted Bdeir from her mission. If we want to use technology to build a more inclusive future, she argues that we need to spark the love of engineering processes in children of all backgrounds. A STEM toy is a great way to spark a love for engineering, but so often those toys are marketed towards only one kind of kid — and a lot of times, that kid is a boy.
Gender-Neutral Toys for All Inventors
The sad thing is that toys didn't always have to have these gendered components. Before littleBits incorporated coding, beeping, spinning, and interactive circuitry into their building blocks, Legos were the first to market building materials to children. Legos, like littleBits, created unstructured play.
That message was driven home in their iconic 1981 advertisement featuring a young girl glowing with pride over her misshapen Lego structure. The copy reads: "What it is, is beautiful."
But in 2012, it became clear that Lego had deviated from their original mission and dipped into the world of "toys for boys" and "toys for girls." These toys included the Lego "friends" line, which was directly marketed "for girls." It was quickly nominated as Consumerists' "Worst Toy of the Year" award and spawned a change.org petition circulated amongst 68,000 parents. Lego has since corrected course by attempting to create more inclusive marketing, and by increasing the amount of women who are represented in their figurines.
You can see the vestiges of that struggle all over the New York Toy Fair. At check-in, benevolent representatives will offer you a toy of your very own to take home. There are two options: a small toy car and a fairy figurine. The unspoken siloing is clear. It's a subtly suggested gendering of play that Bdeir would like to see eliminated from toys, but especially for STEM toys.
LittleBits has learned from Lego's mistakes. She's been careful not to market littleBits as an "engineering toy for girls" because it's supposed to be an engineering tool that anyone can use.
"We want to get more girls into STEM, so we want our product to be gender-neutral," she says.
Early on, Bdeir baked neutrality into the toys' design. Emily Tuteur, the director of product design at littleBits, called them "candy colored" — which appeals to both girls and boys — and adds that they're aware a toy can send a visual signal about who its intended audience is.
It's a similar mission held by early Lego with the sophistication of computerized engineering tools.
"Everything is gender-neutral and follows very specific design principles that encourage fluidity. You don't have to choose between building a car or building a unicorn — though you can if you want to," Bdeir added during the panel.
Bdeir's "very specific design" principles have paid off, if you look at the demographics of her user base. Between 40 percent of Bdeir's younger user base, she adds, is girls. Bdeir sees that as a win, but her mission has always been far bigger.
"We want to invite more kids to become inventors," she says.
And that, you could argue, is beautiful.
Now Read This: Who Can Be an Inventor? Society Has the Wrong Idea About It
Ayah Bdeir is a member of the Inverse Future 50.