The Future of Milk is Nuts!
No grain, nut, or seed is off-limits for "milk."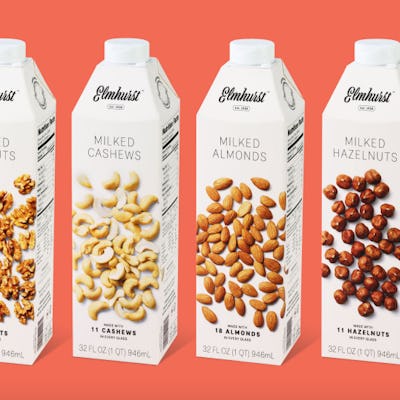 Elmhurst
I couldn't stand milk years before a doctor gave me the formal diagnosis of lactose intolerance.
Using milk for anything more than wetting my cereal grossed me out, and the soy or almond alternatives my mom would get teenaged me was only so much better.
But that was a decade ago, and since then the number and variety of alternative milks have exploded, giving dairy haters like me more options than ever before. And when I heard that even Queens, New York-based Elmhurst Dairy Farms, one of the country's makers of milk, was leaving cows behind in favor of high-tech, plant-based products, I just had to try its new milk for myself.
I set out to taste the new tech-formulated Elmhurst line of milks — which include walnut, hazelnut, almond and cashew flavors — to check if they live up to their promise of "natural milk consistency." Could my never-ending quest to find the healthiest, best tasting, lactose-free milk finally be at an end?
Elmhurst's Henry Schwartz grew up to run his family's plant in Jamaica, Queens, but he was forced to shut it down last year after it had become unprofitable. So he made the company-redefining decision to shift the historic operation's focus onto the "future of milk."
When it opened in 1925 Elmhurst Farms sent the cows home and brought in food scientists to design its new "cold milking" technology. Through this process, Elmhurst has begun milking what it calls "GNS" — grains, nuts, seeds — into "nutritious, delicious milk."
The project's lead food scientist, Dr. Cheryl Mitchell, tells Inverse that unlike your typical non-dairy beverages on the market today, this new "milking" process extracts macro- and micronutrients. By separating the fiber from the protein and later combining them, Mitchell and her team are able to create a creamy, smooth texture. It's intended to be a far cry from those watery rice cream beverages of yesteryear.
"Cold milking slowly and gently separates the different components of the plant instead of cutting them up," Mitchell say. "That's when the fat falls off and you can form an emulsion." The plant's proteins are what give Elmhurst's new line of milk the opacity of traditional dairy milk.
The milks also contain none of the industrial stabilizers, whiteners, emulsifiers or gums typical of other national brands, Mitchell says. "So they're non-GMO, gluten free, vegan, dairy free, lactose free, and kosher."
Having recently gone on sale for around $4.99 a carton, the new Elmhurst milks come in minimalist, aseptic cartons. The packaging is a sort of modern take on the traditional milk carton, making them shelf-stable and recyclable.
I enlisted the rest of the Inverse team to put these milks to the test. As a longtime hazelnut enthusiast, Inverse Space Editor Rae Paoletta says she "just loves everything with hazelnut in it, especially coffee." This made her the perfect candidate to taste the hazelnut milk in our office's coffee.
"It was a little too subtle for my taste," Rae admits, saying the flavors are more apparent when it's drank on its own.
One thing we all agreed on was that the Elmhurst nut milks were generally a lot oilier than you'd expect from traditional non-dairy beverages. This is understandable, considering the abundance of oil that raw nuts have.
"They left a weird film on my mouth," Inverse science editor Yasmin Tayag says. "The walnut one also left a dry feeling, similar to drinking wine with a high tannin content. But that's not to say they weren't tasty."
Overall, the hazelnut milk tasted like liquid, sugar-free "diet" Ferrero Rocher, "in a good way."
Cashew milk was another favorite in coffee due to its subtle nutty taste. The almond milk was probably the most familiar-tasting in the lineup, probably due to my taste buds being conditioned to almond beverages for years.
The milks' raw, unsweetened flavor is definitely a shift in what consumers have been conditioned to think of as nut milk. Mitchell explains that when lactose-free options were beginning to hit the market, scientists were forced to use additives like calcium carbonate and gums to make them "look like milk." It's also why their packaging claimed them to be "nut beverage," as opposed to a "milk."
Elmhurst's milks will be delivering a full servings of nuts in each glass. For example: a serving of the Elmhurst almond milk has 18 almonds, making it a true milk.
"They have the functionality of regular lactose milk," Mitchell says, noting that the cashew foams well for latte purposes, perfect for millennials' flat white needs. "The process we developed was specifically made for food application," Mitchell explains, noting that the milks can be turned into products like yogurt and cheese. The company will also introduce Elmhurst Aquafaba, an egg white substitute made directly from chickpeas water.
As the Elmhurst team went from cashew to almond to hazelnuts, "it really began to taste like you're drinking the nuts and getting those nutrients in the serving."
And their move to dairy-free comes at a time when plant-based foods are predicted to become the standard in the next few decades.
This is not only due to sustainability, but the fact that the diet trends are shifting. "More people are interested in alternative, plant-based foods and consuming them directly," Mitchell says.
In fact, Elmhurst's next line of milks will include "milked peanuts," which Mitchell says have a huge nutritional value and cost less than most nuts. To keep within the sustainability theme, Elmhurst's plant may no longer be in New York City, but its new Niagara Falls facility uses water power from Lake Erie's shallow, replaceable water.
The company's upcoming lines of milks are set to hit shelves, including Walmart's, in January 2018. They'll include peanut, brown rice and oat, which they hope will introduce the market to more dairy-alternatives than ever. There is even a future lentil milk in the works.
"And we're using every part of the nut, seed or grain, so there is a sense of sustainability and traceability."
We are shining a spotlight on some of the millions of small businesses now challenged by Covid-19. This is part of an ongoing commitment our parent company, Bustle Digital Group, is making to support small businesses throughout the entire month of May. Tell us about your favorite small business on social media using #SmallBusinessSalutes.