How to Stream and Watch Netflix, HBO, and Amazon Offline and Without Wifi
Say goodbye to that spotty cell signal and hello to streaming on the subway.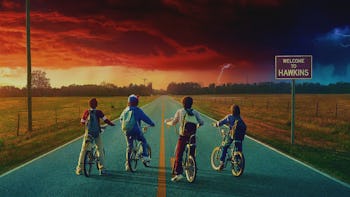 Netflix
It seems like nine times out of 10, the wifi doesn't work on planes, and yet you always plan on using it to catch up on the latest show you're into. You don't have to snooze on your neighbor's shoulder, because, alas, the big players in streaming — Netflix, HBO, and Amazon, of course — have made it possible for you to watch your favorite TV shows and movies offline.
Those subway rides are starting to look a little more doable! Here's how you can watch titles offline on some of your favorite streaming services:
How to Watch Netflix Offline
Netflix made it possible to download content for offline use in November of last year. Only select movies and shows are available for download, unfortunately, but that includes popular original content like Narcos and Orange is the New Black.
The feature is available through the Netflix app on Apple devices with iOS 9 or later, Android devices running the 4.4.2 update or later, and computers and tablets running Windows 10. Sorry, Mac users — you're out of luck.
It's relatively simple to download content: On the Netflix app, open the menu on the home screen (the three lines on the top left) and select "Available for Download." Here, you'll find all the content you can watch offline. Since it might be hard to find a particular title you're looking for in this tab, you can also simply search for what you want to watch, and content available for download will have a downwards arrow next to it. All content that has been downloaded on your device will appear in the "My Downloads" tab.
Make sure to download your content before you go on that airplane and lose access to wifi and cell service. Netflix downloads take up a lot of storage, so it pays to first clean out your phone storage and only download a few titles at a time.
How to Watch Amazon Offline
Amazon was actually way ahead of Netflix — the site has offered offline streaming since 2015. Like Netflix, only select content is available to do so, but this includes Transparent and The Man in the High Castle.
Owners of Amazon's Fire devices, who could watch offline titles long before 2015, simply need to click "Videos" on the home screen of their phone or tablet to access content.
Amazon Prime members need to download the Amazon Video app, which is available on iOS and Android phones and tablets (not desktops). A downward arrow icon appears next to movies and TV episodes available for download. However unlike Netflix, the app does not offer a way to only view those titles that can be watched offline. The app includes a "Downloads" tab where all your downloaded content is stored.
Amazon says on its site there is a "maximum amount of Prime titles" that can be downloaded across all devices on an account, but it doesn't specify how many. To make room for additional content or phone storage, make sure to delete the downloads after use.
How to Watch HBO
HBO's online streaming service, HBO GO, doesn't itself offer a way to watch its content offline. However, there are numerous legal recording programs, both free and paid, that allow you to watch content offline. These services act like a television DVR and record content in real-time. So if you want to watch a two hour movie offline, it'll take two hours to download the film for use.
Hulu, which has premiered its popular content such as The Handmaid's Tale in the last year, said in January it was working on launching offline streaming "in the next few months." However, Hulu has not provided any updates on this since the initial January announcement. Hulu did say, though, that this option would not be included as part of its basic $8-a-month subscription — users would have to fork up $40 each month for offline viewing that will be bundled into the live streaming TV service Hulu is releasing soon.
Showtime made offline streaming available in April on its apps, so shows such as Homeland and Ray Donovan that are not on Netflix, and content only available online on Netflix like Shameless, can be streamed offline. Other hit series like Dexter and Twin Peaks, however, are already available to download through Netflix.