Arsenal's Arsene Wenger has a bold prediction for data in sports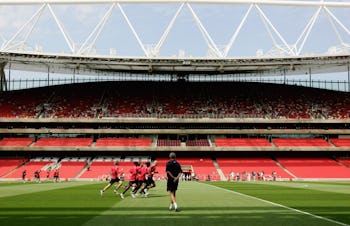 Getty Images / Paul Gilham
Data and artificial intelligence are changing every industry, and sports are not immune to the increase in decisions, driven solely by data science, that reduce the need for the brain to ponder a substitution or struggle with a starting lineup. An army of robots will replace trusty assistant coaches, it seems.
Arsene Wenger, the longtime manager of the Arsenal Football Club in London, predicts that a new era for sports management will be here by 2032 or so. Technology that already collects and presents data for today's games will all but be entrusted to make tactical decisions for human managers, reducing their role on the sidelines.
Wenger was speaking this week in London at a benefit to raise money for victims of the Grenfell Tower Fire. He said he's convinced technology will take over many of the decisions made by today's managers.
"I'm convinced that in 10-15 years, it will not necessarily be a football specialist who will be a manager for a club," Wenger said. "He will have so many scientists around him who will bring out the team to play on Saturday. How to manage, it will be more management specialists than football specialists, because the football decisions will be made by technology."
In Major League Baseball, data-based decisions propelled the Oakland A's to the playoffs four years in a row in the early 2000s, which later became the subject of the Michael Lewis book Moneyball, later turned into a movie. Full-on traditionalists in sports have been left behind to a large degree. While they've yet to create an A.I. that can motivate and inspire athletes to stop jogging through matches, Wenger said much of the management will be handled by technology in the coming two decades.
Wenger's prediction of a future where the manager maybe only paces the sidelines and looks pensive — and doesn't do much else — may not be that far off.
In baseball, under general manager Billy Beane, the A's used data and situation-based stats to have the best player available for a myriad of situations, which enabled the organization to avoid spending money on stars, thereby keeping the payroll down winning games.
But basing sports strategies on data alone has its critics, especially veteran managers. One was Tony La Russa, the longtime baseball manager, who in 2011 said he walked out of the theater during Moneyball. La Russa said that the film "dissed" human baseball scouts — famous for incorporating experience and gut instinct into their decisions.
Although more polite than La Russa's, Wenger's comments seemed to skew toward the same sentiment. Although praised as a talented economist who has long-based decisions on statistics, Wenger seems to have his limits when it comes to delegating data-based decisions. Earlier this year, the English sports press heavily covered his criticism of the position of "director of football," a relatively new executive role at many top football clubs (but not at Arsenal) that appropriates many of the tasks traditionally handled by a manager: signing new players, selling others, developing young players, and so on. And it all involves data science.
A 2014 story in The Guardian, "How Computer Analysts Took Over at Britain's Top Football Clubs," reported that all 20 clubs in the Premier League that season, plus many clubs in lower divisions, employed data scientists to track "events" in every match on how players and the team as a whole performed. A few years before that, it was reported that Arsenal bought an entire data firm outright. One of the big non-player transfer sagas for Arsenal in 2016 was when it lured away a data analyst from Leceister City F.C. This English team recruited its way to a championship by signing underrated players based on their statistics.
As it turns out, Beane, who was GM of the A's through 2016, is a devoted fan of Arsenal, claiming "Wenger is an idol" of his. But the father of data science in modern sports isn't all stats: Beane has said he was attracted to Arsenal for the club's style of play. On good days, Arsenal trade the rough-and-tumble, elbowing British football with hypnotic passing and something approaching grace.
So while the future might be filled with soulless, data-driven decisions, and managers who are more like mascots, it seems the play resulting from this decision will still possess organic beauty.