An Overdose Antidote Is Coming to a Drug Store Near You
"Be ready to save a life."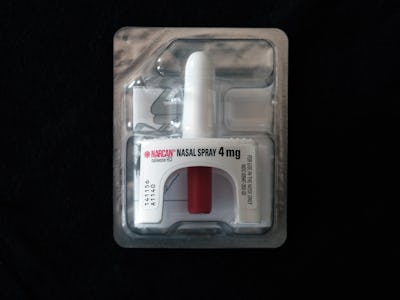 Spencer Platt/Getty Images News/Getty Images
The United States just took a major step forward in treating the opioid epidemic like the public health emergency may consider it to be. On Wednesday, March 29, the U.S. Food and Drug Administration approved Narcan for over-the-counter sale and use without medical supervision. Until now, this prescription version of naloxone was used in emergency settings to treat people experiencing a drug overdose.
The approval is a huge victory for advocates who wanted to abolish the old prescription-based system and reduce the barrier to access this life-saving medication with the power to reverse a potentially fatal overdose with just one spray.
"The move [has] been really a long time in the making," Alex Bennett, director of the opioid overdose program at New York University's School of Global Public Health, tells Inverse.
At this point, we know that more people than ever are using Narcan or naloxone. About 1.2 million doses of naloxone were dispensed by retail pharmacies in 2021, according to data from the American Medical Association — nearly nine times the amount dispensed in the five years prior. Yet research suggests more naloxone is urgently needed. Fatal overdose deaths tipped over 100,000 in the year leading to October 2022, as reported by the Centers for Disease Control and Prevention, with many caused by overdoses of synthetic opioids like illicit fentanyl.
"Community based programs have been really advocating and trying to get naloxone over-the-counter for a decade," says Bennett. 'The FDA has taken a very important first step in getting the intranasal [Narcan] spray over-the-counter, which will really go a long way in helping normalize naloxone and reducing the stigma associated with the medication and people who use drugs in general."
How accessible the FDA's over-the-counter approval will make Narcan isn't known — price and other barriers may still hold the people who need Narcan the most back from getting it. It's a problem that has historically plagued the life-saving antidote's manufacturing and distribution at a larger scale, as STAT News reported in February.
Here's what you need to know about Narcan and this approval.
What is Narcan?
Narcan is the prescription nasal spray version of naloxone, a drug that was first discovered in March 1961 and approved by the FDA to treat overdoses in 1971. The nasal spray was approved as a prescription drug in 2015. Since the '70s, naloxone has been the go-to for emergency responders and hospital staff to quickly reverse an opioid overdose as a result of taking heroin, fentanyl, prescription medications, and other drugs as it is happening.
If given at the right time, naloxone stops the opioids' effects by acting on opiate receptors in the brain involved in pain and addiction, Peter Grinspoon, a medical cannabis specialist and primary care physician at Massachusetts General Hospital, tells Inverse.
"Narcan binds to the opiate receptors [in the brain] much more tightly than the opiate and knocks them off," explains Grinspoon. "So all the sudden, for example, in your brainstem where your respiratory center is, you have all these opiates telling your body not to breathe and that's why people die. [But with Narcan], all the opiates are gone so you're breathing again."
Regaining consciousness from an overdose courtesy of Narcan can be brutal: The person goes from being unconscious and unaware to experiencing acute, agonizing withdrawal.
"People can be combative, they could be confused, they could be angry," says Grinspoon, although those disorienting feelings tend to dissipate after some time.
Who benefits from Narcan?
It is not hyperbole to say that everyone — even you — benefit from having access to Narcan. Users to family members and friends to people who live in high-opioid areas can all now have Narcan at the ready. Making the antidote over-the-counter also means users can get the drug from pharmacies — right alongside Tylenol — to vending machines and even the most convenient of places, like a gas station.
But Bennett says approval for over-the-counter sale still doesn't resolve where people will the drug in places with fewer pharmacies or drug stores — including the rural areas where there's already not enough naloxone and an increasing prevalence of misuse of prescription opioids.
"In many places [in the U.S.], there isn't a Walgreens on every corner," Joshua Lynch, a clinical associate professor of emergency medicine at the University at Buffalo's Jacob School of Medicine who specializes in addiction medicine, tells Inverse. "So I think the rollout needs to be done in a responsible, open-minded way so that truly the communities that need this the most will have access."
One big barrier: Cost
Switching Narcan from a prescription to over-the-counter drug isn't going to make it instantly available anywhere. According to the FDA, the process may take several months as the agency works with manufacturers to ensure a smooth transition with appropriate formulations, consumer packaging, and labeling. One manufacturer, Emergent BioSolutions, hopes to get Narcan on drug store shelves by late summer, the company says in a statement.
"The FDA is working with our federal partners to help ensure continued access to all forms of naloxone during the transition of this product from prescription status to nonprescription/[over-the-counter]," Patrizia Cavazzoni, director of the FDA's Center for Drug Evaluation and Research, says in a statement.
This all brings us to a point: Narcan costs a significant chunk of money. Bennett says the Narcan nasal spray costs between $60 to $120. (Injectable naloxone is considerably cheaper at about $5 an injection.)
"We really need to make sure that we create a more low threshold, low cost, and free community access to naloxone," Bennett says. "We really need to prioritize this for many people who are poor [and] people of color in disadvantaged communities to tackle this incredibly bad public health crisis that's getting worse."
Grinspoon and Lynch also agree that while it's unclear what the retail price for over-the-counter Narcan may be, the cost remains a hurdle no matter how much the medication is made available in the community.
"Narcan is safe to use, it doesn't really require a lot of education, [and] you can't hurt someone with it," says Lynch. "In Narcan being over the counter, [it] will undoubtedly increase access to the medication, regardless of what programs are already available. It's an additional aid for individuals to obtain to be ready to save a life."