Surgeons Perform First-Ever Whole Eye and Partial Facial Transplant
It's a revolutionary new step in the field of transplant medicine.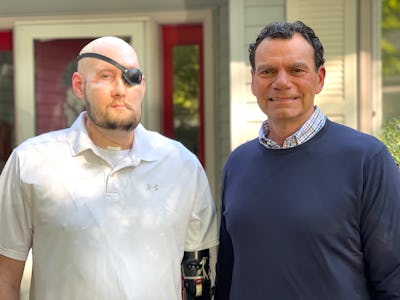 NYU Langone Health
Since the first face transplant in 2005, there have been no more than 46 similar operations around the world. Now, a surgical team at NYU Langone Health has performed the first-ever full eye transplant in addition to a partial face transplant for Aaron James, a 46-year-old military veteran who lost most of his face in an accident.
While James still can't see out of his new left eye — and it's unclear whether he will ever be able to — his surgeons say the eye is healing well with no signs of rejection. But for James, the cosmetic benefit of having a new face and being able to speak and eat normally has made a tremendous difference in his quality of life.
"This shows us that remarkable things can happen if you plan it out and you do a good job," Vaidehi Dedania, a retina specialist and one of James' surgeons, told reporters in a press conference. "This [surgery] is surprising because it's never been done before. It's been thought quite impossible, and we've shown it's not."
In June 2021, James was working as a high-voltage power lineman when his face accidentally touched a live wire. The 7,200-volt electric shock resulted in devastating injuries: the loss of James' left eye, left arm, and more than half his face, including his nose and mouth.
In May 2023, after finding a compatible donor, James underwent transplant surgery at NYU Langone. The procedure involved a surgical team of 140 surgeons, nurses, and other health care professionals and took 21 hours.
Removing the donor tissue was a complex process using cutting guides so that the new bone and tissue would replace James' damaged face "precisely like a puzzle," Eduardo D. Rodriguez, director of the Face Transplant Program at NYU Langone, told reporters at the press conference.
Surgeons also obtained donor bone marrow from which they extracted stem cells and injected them into James' optic nerve – the cranial nerve transmitting information from the eye's retina to the brain — so as to stimulate nerve growth.
"We're not saying that we're restoring vision, but we're certainly one step closer."
Since his surgery, James has recuperated well and has shown no signs of rejecting his new eyeball or face. He is on immunosuppression and likely will remain on them lifelong, as most people who have received a transplant do. Dedania said James' new eye looked completely healthy, is getting good blood flow, and seems to be doing well upon recent assessments. James isn't able to open his left eye but has been able to squint.
It's far too early to tell whether James will regain sight in his new eye, said Dedania and Rodriguez. So far, there have been only corneal transplants and not whole eyes, so only time will tell what the ultimate outcome will be.
"We're not saying that we're restoring vision, but we're certainly one step closer," said Rodriguez. "There are two chapters in that three-chapter book that no one felt we would get to. So let's move on to the third chapter and see how sight can be restored."