The 5 Best Kinetic Watches
Ditch the smart watch--and wear a piece of fine craftsmanship.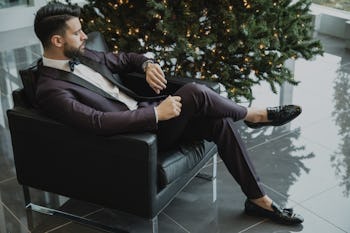 Unsplash / Shamim Nakhaei
We live in an always on, battery-powered, connected world.
But it's a pain to know what time it is. The watch face of your smart watch is randomly bright—but never visible when you actually want to look at it. Your phone requires you pick it up to glean the hour.
Whatever happened to that universal gesture: Glancing at a watch. It signals people that it's time to go. It can show impatience or it can just be a helpful finding of fact. And if you're wearing a nice watch, it's a small moment of beauty you can look at throughout the day.
Automatic, self-winding, or kinetic watches are steeped in precision and tiny inner workings. They are not connected to anything so you can wear one without feeling the pressure of life. And they are beautiful.
We found six that will look great on your wrist, whether you are wearing a sharkskin suit or a tee shirt.
Wearing a kinetic watch is what makes it keep accurate time. So it should be comfortable, right? Those rubber watch bands? Not so much. This lovely green, canvas band, though? It breathes, it molds to your shape, it's comfortable and it looks great.
The green face matches the band. And this simple watch is so easy on the eyes, you will love having it as your constant companion. Never ask anyone the date or time again. Never change the batteries. Never take this off to put it on a charger.
If you are a diver, finding the perfect diving watch is a seemingly endless quest. Yes, you have a dive computer. But you are going into an alien environment. Redundancy is important. So keep this Invicta Pro Diver's Watch with a working bezel — strapped to your wrist as a backup, so you always know your dive time, the time till you can dive again, and to mark a reasonable surface interval before you head to the bar. Or you know, maybe you just want to look like that guy.
Hemingway worked hard to write clean, sparse, and minimal. He would have liked this watch. It is dark but clean. There are no extra words. No fluff. No flab. Just a watch. A beautiful watch that tells a great story. Nothing more. Nothing less. The leather is fine. The face is honest. It's made well to survive whatever fight you are headed into.
Ready to take minimalist to the extreme? Check this out. There seems to almost nothing on this watch face. But it's offering a lot of information, in its own way.
Enjoy that plain black face, with one main dial main dial, the black-on-black minute and hour hands and a bright blue second hand. It also has three subdials: A 24-hour clock, a 30-minute timer, and 60-second timer.
Your own minimalist movement powers this baby. And it will look great—if a bit cryptic (you can probably relate)—on.
How does this whole "kinetic" self-winding watch thing work, anyway? This lovely, sporty Bullova in a gunmetal case lets you watch the inner workings of your watch as it does it.
Will that clear it up? Will you be able to see it winding itself in all those tiny gears? Probably not. But it is absolutely beautiful to look at. There is something mesmerizing about the beautiful innards of a mechanical watch. The perfection of the old-school craftsmanship is why you want to wear a watch. So why not look right into its soul?