Best Cold-Brew Coffee Makers Under $30 of 2019
Think how much you'll save if you make your own cold brew coffee.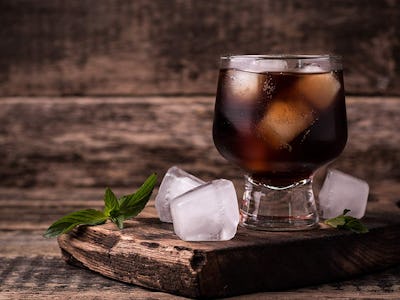 Amazon
People love cold-brew coffee for its smooth, mellow taste without the bitterness or acidity that results from brewing coffee with hot water. What people aren't so thrilled about is the cost of buying a cup of cold-brewed coffee or ready-made concentrate.
Lucky for you, making your own cold-brew concentrate is simple. Put ground coffee in the filter, put the filter in a container of water, and let it take care of itself. Many cold-brew coffee makers come with filter and container, but if you want, you can purchase just a filter and use a mason jar to make your concentrate.
You can get a good cold-brew coffee maker for under $30. With a tiny bit of effort, you can have the concentrate on hand whenever you want it, with no more need to buy iced coffee.
Why We Picked It The Pace cold brew coffee maker comes with a fine mesh filter to keep the grounds out of your concentrate. The glass pitcher holds up to 1.6 quarts. Use the lid with or without the filter, and it has a silicone gasket that keeps it from dripping when you pour the concentrate to make a drink. You can hand wash the pieces or put them in the top rack of a dishwasher.
Why We Picked It Really, the most important thing about making cold brew concentrate is using a very good filter. The Klein cold brew kit is just that. The kit comes with an extra heavy-duty stainless steel wire-mesh filter that fits a wide-mouth Mason jar. Use a 24-oz, 32-oz, 48-oz or even 64-oz jar, depending on how much concentrate you want to brew. The kit also includes a spoon and a silicone gasket to keep your Mason jar from leaking. Supply the jar, save some bucks. Sounds like a good deal.
Why We Picked It The two-quart cold-brew kit from County Line Kitchen includes everything you need to make cold brew – a 2-quart Mason jar, stainless steel lid with silicone seal, plus a heavy-duty stainless steel filter and an additional silicone seal for the filter. You also get a recipe book that'll help you make cold-brewed tea, fruit-infused water, and spice-infused oils — because a cold brew coffee maker isn't just for coffee.
Why We Picked It Not into the Mason jar look? The Hario Mizudashi cold brew coffee pot sports a clean modern look and makes about four cups of coffee. The kit includes a heat-resistant glass pitcher, lid, handle, and superfine mesh filter. It's dishwasher safe, and reviewers give it very high marks for ease of use.