Up Your Four-Legged Friend's Level of Care With ZenPup's CBD for Dogs
Keep your pet happy, healthy, and calm with ZenPup.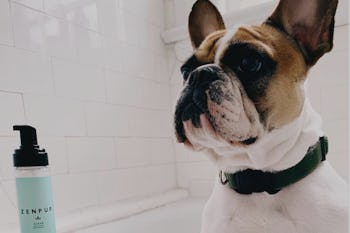 ZenPup
Now more than ever before, animals are treated like more than a family pet. They're a viable member of the family, if not your designated furbaby and studies support these super obvious findings. 75% of millennials have opted to adopt a pup, which they spoil like a child. Like any good parent, fur parents want to give their four-legged friends the best life has to offer. So, when it comes to the health and wellbeing of dogs, it's not surprising that CBD has become a viable way of treating man's best friend. Instead of allowing your furry child to suffer from common ailments like anxiety, inflammation, and chronic pain, many pet owners are turning to CBD to treat their pets. If you're one of the three-fourths of millennial dog owners looking to give your fur child the best possible life, ZenPup's CBD based products are exactly what you've been looking for.
As pet parents, we are constantly on the hunt for natural products that not only improve our dog's health but their happiness and well being. The popularity of CBD to treat common ailments in human beings has given way to treating the same issues in our pets. Even the American Kennel Club says there's evidence that supports the healing power of CBD in dogs.
ZenPup's broad-spectrum CBD Tincture Spray provides the most effective & fast acting delivery of CBD. This bacon-flavored cure-all helps soothe anxiety and reduce pain and inflammation. All this while simultaneously promoting joy, calmness & an overall sense of well-being. Each bottle contains 250mg of rich phytocannabinoid oil, expertly-extracted from hemp plants and blended with MCT oil as a carrier. The bacon flavor makes it irresistible to Fido, who'll gobble it up just as quickly as if it was actual bacon.
ZenPup's new & improved Goodies are handcrafted in small batches by an artisanal chef. It's made only using human-grade, high-quality ingredients sourced from local farms in Northern California - these treats are the very definition of farm to jar. Each treat contains 5mg of broad-spectrum hemp-derived cannabidiol + a special blend of natural, plant-based ingredients proven to alleviate anxiety & promote relaxation in stressful situations - without drowsiness or drugs. Goodies are an all-natural solution to keeping your pet calm, pain-free and comfortable.
Keep your furbaby, so fresh and so clean with ZenPup's alternative to washing, ZenPup Clean. This CBD infused multi-benefit, rinse-free wonder has 300mg of broad-spectrum hemp oil to clean hair & fur, eliminate oil, sweat, and odor while providing soothing relief for your pup. Not only that, ZenPup Clean helps reduce dry, itchy skin while taming hot spots so your pet has a healthier looking coat without any irritation. Plus, it extends the time between regular washings—no water needed, like a dry shampoo for dogs that's suitable for all hair/fur types.
That said, like any responsible pet owner, make sure to check with your vet before you treat your pup with CBD. Once you get the green light, elevate Spot's care routine with ZenPup's CBD products. Whether for earlier in life, to promote happiness and calm, or later, to ease pain or discomfort, Zenpup's CBD infused formulas are designed to have a positive impact on dogs in a way that a typical pharmaceutical product wouldn't be able to.