We Don't Even Know Why These Stress-Relief Stress-Relief Games Are So Oddly Satisfying
Sometimes serious concentration comes from a little light distraction.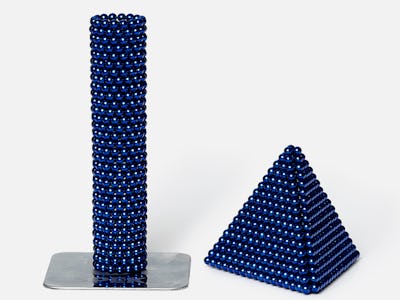 Speks
Your brain is a muscle. I think. I'm not sure if it is true or just an old adage, but I've heard this countless times throughout my life by teachers, coaches, and parents. For those who weren't lectured to death, the gist is this: if you want to be high-functioning intellectually, you need to 'use' your brain. By 'use', I mean to stimulate and challenge. This keeps it working and learning (allegedly). Plus, doing some kind of activity that involves both your hands and brain is actually a great way to focus at work or school.
If playing games for improved cognition and focus sounds too good to be true, allow us to introduce Speks, creator of 'The World's Most Fun Desk Toys'.
Categorized by speks, flecks, supers, and unblocks, these nifty toys let your brain focus on a different task of simply playing around with a malleable object for the best stress-relief. Crafted with durable magnets for fun that lasts, the toys are designed for you to 'mindfully unwind'.
Here are some favorite staff picks:
The cThe coolest feature of this extremely cool, grown-up toy of this extremely cool, grown-up toy: being able to deconstruct the magnets and construct an infinite number of geometric shapes.
Stimulate creative energy and flow with these interchangeable magnetic building pieces and see where your mind takes you. Perfect for anyone who used to (badly) sketch in class in order to concentrate harder.
Sometimes we all need to be distracted a little bit in order to really think—if you were a pen-twirler as a student—and did it in order to pay more attention in class, not less—then these are for you. Twirling these orbs in your hands will give you supreme concentration.