5 Reusable Beverage Containers That Will Help You Drink More Water and Save the Planet
Save our planet and your wallet in one fell swoop.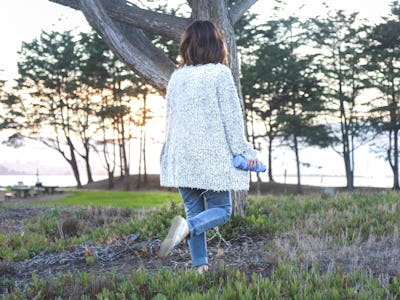 Que Bottle
I'm the type of person that can never have too many water bottles. I form human-like attachment bonds to my favorite water bottles and I grieve for a great loss on the all-too-common occurrence that I lose, misplace or damage one of my favorites. But, I'm not water bottle monogamous in the slightest. Any time I'm in a well-curated gift shop, TJ Maxx or see a well-timed targeted advertisement, I find myself wondering how much my life would improve with the addition of a new water bottle to my already stacked arsenal of beverage containers.
Most of the time, I decide that the aesthetic value of a new water bottle is enough to carry me through any stressors I might experience at any point that week, but beyond that, I'm wholly a cold water brat. I like to have access to cool water from my fridge no matter where I am and I don't like the option of paying upwards of $3 for bottled water any time I leave the house. Because of that, I encourage you to join me on my journey to replacing disposable beverage containers with the ever-convenient—and still stylish—option of your very own.
Below, you'll find my favorites available on Amazon.
For Those Who Need Something Compact
Why We Picked It: Available in 10 stunning color ways to pair with your personality, the que bottle is a durable 12 ounce collapsible water bottle built to go with you anywhere. Both lightweight and compact at only 4 inches tall when collapsed, que bottle can handle hot liquids up to 450°F without melting—thanks to food-grade silicone—and will keep your cool water at the perfect temperature during long days away from the house.
For Those That Need Something Heavy Duty
Why We Picked It: Isn't it obvious? Not only is this teal wood pattern remarkably beautiful, but S'well water bottles have a powerful legacy. Constructed from stainless steel and triple insulated with three walls, S'well is the water bottle use for long hikes, beach days and more because it will keep your beverage at precisely the temperature it started at for up to 24 hours for cold beverages and up to 12 for hot. Not only for water, this S'well bottle's 25 ounce capacity is enough to discreetly hold and maintain a palatable temperature for your favorite bottle of wine.
For Those That Like The Convenience of A Straw
Why We Picked It: Unlike bulkier alternatives, Stojo can go with you anywhere thanks to its collapsible function. Now that you know you can carry it in your pocket, backpack, briefcase or purse, what's your excuse? Save the planet and start receiving discounts at your favorite coffee shop in the same breath and when you're done with it, simply throw it on the top rack of your dishwasher with your nightly load of dishes. The included straw is collapsible and easy to use as well for those who prefer the convenience of a straw. Available in 9 brilliant color ways to match your personal style.
For Those That Drink Tea and Coffee Just As Much As Water
Why We Picked It: If you travel a lot—to remote camping destinations or 2-star hotels—you might be lusting after a possible solution to your coffee and tea woes. Rather than travel with a bulky, and potentially fragile french press, coffee, tea and a mug, you can do everything you need with just this reusable and portable french press-travel mug hybrid. Double walled insulation keeps your drink at the perfect temperature while BPA-free plastic adds promised longevity and durability to your investment.
For Those That Spend A Lot of Time Outdoors
Why We Picked It: When you're not close to a filtered water source—such as anywhere in the great outdoors—you don't need to forego the positive benefits of filtered water if you have the ultra lightweight 22-ounce Berkey Sport Water Bottle. Made from BPA-Free medical grade plastic, this brilliant water bottle includes the amazing Berkey filter and reduces microorganisms by more than 99.9% and reduces viruses with more than 97% efficacy. Beyond that, it also reduces toxic chemicals, heavy metals, volatile organic compounds, pesticides and more, so that you can enjoy the great outdoors without having to worry about what kinds of harmful stuff might be in your water.