Our Favorite Line of Mattresses Comes With a Full 1 Year Trial
Nectar Sleep is so confident that you'll love your mattress, they'll give you a full year to try it.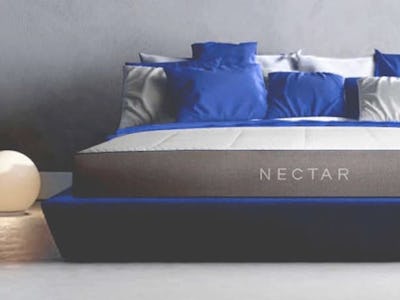 Nectar Sleep
If you've made it here, you know you're overdue for a mattress. You deserve a higher quality of life (and sleep) than what you're getting, and it's so much easier to accomplish than you think. Now that the future has arrived, ordering anything online is possible, cross-referencing reviews is easier than ever, and getting a brand-new mattress shipped right to your door before the week ends has never been more affordable.
If you're like my partner, you might not have much experience with ordering things online, and you might be worried about the quality of the thing your getting—especially if that thing is something you'll be sleeping on. Nectar Sleep gets that. To make sure a Nectar Mattress is the right choice for you, Nectar goes the extra mile and is one of the only mattress-in-a-box brands to offer a 365 night trial. Yep, you read that right.
You have a full year to return your Nectar Mattress for any reason and you will receive a 100% refund. That's zero risk. If that's not the biggest sell on a mattress ever, what about free delivery in a box that is super easy to get up tight stairwells, through small doorways, and into any space necessary?
All you have to do is open the conveniently sized box, remove the plastic covering and your memory foam mattress will expand to its proper size. Nectar Mattresses stand out against conventional mattresses and other mattress-in-a-box brands in that they will work with any possible bed surface, including platform beds, slat beds, box springs and even the floor.
Decide you want to keep your mattress? You're covered for life with Nectar Sleep's lifetime warranty, so as long as you own that mattress, Nectar Sleep will do everything in their power to guarantee your comfort. Decide you don't love your mattress? You don't even have to ship it back. Once again, Nectar Sleep stands out against the competition by going the extra mile to donate or dispose of your unwanted mattress for you.
If that's not enough, a Nectar mattress won't just save you in terms of comfort and convenience, you'll also save hundreds of dollars on sales commission that would have been spent at a brick and mortar mattress storm. For a limited time as part of their annual spring sale, Nectar Sleep will include two free pillows with every order and knock $125 off.
That makes a king sized mattress less than $900 and a queen sized under $700. It doesn't really get any better than that.