4 Game of Thrones Must-Have Sex Toys for the Game of Thrones Super Fan
Winter is coming... and so are you.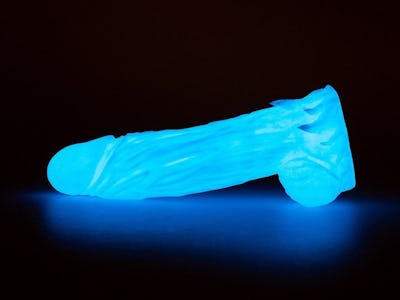 Geeky Sex Toys
50 Shades of Grey may have popularized kink for a primarily vanilla audience, but it took the fully immersive, fully freaky world of George R.R. Martin's Game of Thrones to make true kink enthusiasts sit up and pay attention.
So to honor pop culture's true reigning king of kink (whips! chains! incest! oh my!), we rounded up six of the most fun Game of Thrones-themed sex toys now available on Geeky Sex Toys. The collection has been dubbed Game of Moans (ba-dum-cha), and we're feeling pretty certain that these sex toys will make you laugh, destress… and with any luck, orgasm for years after the series finale.
If You (Not-So) Secretly Wanna Get It On With A Dragon
Ladies and gentlemen and folks across the gender spectrum. This 100% silicone dragon dildo is dishwasher safe, which is a sentence we never thought we'd write, but here we are, caring about the relative dishwasher safety of a dragon penis. TBH it looks pretty impressive, and might be especially good for anal?
For The Fan Who Loves The Villain
Look, we get it, sometimes the villain is the hottest character. We don't know that's necessarily the case with the Night King, but who are we to judge — zombie kings deserve love too, right? It is also glow-in-the-dark, which, why not. Whether or not we're super into the idea of zombie sex, we kind of love the idea of watching it disappear… and reappear… all night long.
You Have A Thing For Jon Snow? Join to the Club (…And Try His, Ahem, Sword).
You can't pleasure yourself with a real Valyrian steel sword because 1. fictional and 2. ouch, so go for the next best thing: Jon Snow's long claw in dildo form. Made out of body-safe silicone and a resin handle, this insertable sword has a hard acrylic core coated with silicone, which gives it a slightly squishy feel, but without being bendy. Pretty much perfect for photoshoots, if you ask us.
For The Jorah Mormonts of the World
This dragon egg ball gag will have you feeling like you're getting topped by the Mother of Dragons herself… so basically, you're fulfilling all of Jorah Mormont's most intense fantasies. The ball gag is quality, too — it's made out of siliconed, so it sterilizes easily and is also hypoallergenic, because #safetyfirst, right, kinksters?