These Gummy Bears Just Want to Help You Relax
We could all use a little help—or hemp—in the relaxation department.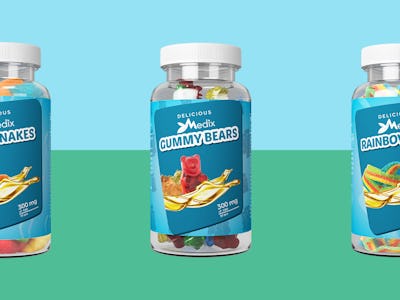 Shop Inverse
It's 2019, and people are finally accepting that cannabis has great medical benefits. Five years ago, you'd be hard-pressed to find the average baby boomer ready and willing to consume CBD, but just the other day, my mother-in-law finally took the plunge, ordered some CBD products, and plans to use them to treat her chronic back pain. So if you've ever been curious, now is definitely the time to try.
The Inverse Shop is currently offering a 41% off off deal on Delicious Medix CBD Gummy Bears, Sour Bears, Rainbow Bites, and Sour Snakes. Usually retailing for $50 for 300mg of CBD, they're now on sale for only $29. Each container of gummies contains a total of 300mg of CBD, which is 30 gummies at 10mg each. This is especially great because it allows you to experiment with what you want to take for your desired effect.
All Delicious Medix products are derived from industry-legal hemp ( cannabis without the psychoactive elements of THC), so you'll never experience mind-altering effects when dosing with CBD. And bonus: these gummies are infused with premium quality Phtyo-cannbinoid-rich (PCR) hemp oil and have been expertly formulated to leave you feel your best. And of course, they're non-toxic, 100% natural, made in America, and have no negative side effects.
Whether you need to relax your body or your mind, CBD is worth looking into for its many potential benefits, including pain relief, muscle relaxation, and anxiety treatment.
Must be 18 or older to purchase.