Leesa's New Mattress Is Here, and You Can Save $160 on It
You can save up to $235 dollars on a hybrid foam mattress too!
by Shane Roberts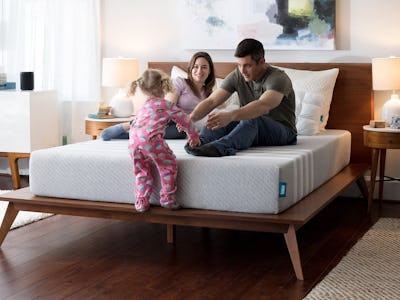 Leesa Mattress
Online mattress industry leader Leesa launched a major update to their foam mattress today. Promo code SKIMLEESA takes a best-ever $160 off, and is a great excuse to finally upgrade.
The updates to the Leesa focus on what's important: support, pressure relief, and cooling. Leesa claims their new LSA200 foam technology is not only more durable, supportive, and cool, but also the most responsive ever, with tests showing foam response times never previously witnessed. (A dramatic moment in the sleep lab, I'm sure.)
I've tested numerous Internet mattresses, and the years of sleep I've had on Leesas have been excellent and back pain-alleviating. A mattress is an expensive and long-term decision, so you can rest even easier knowing you'll get a 100-night trial, and that the previous iteration of the Leesa was Wirecutter's pick for side and stomach-sleepers.
While you're shopping, Leesa also makes my favorite pillows ever, from the same material as their mattress, and if you're more interested in their hybrid foam and coil Sapira mattress, you can save a best ever $235 with the same promo code.
$160 off the new Leesa Mattress with promo code SKIMLEESA