Discrimination Barred Gay Men From Donating Blood to Orlando Shooting Victims
An anachronistic policy can no longer be justified.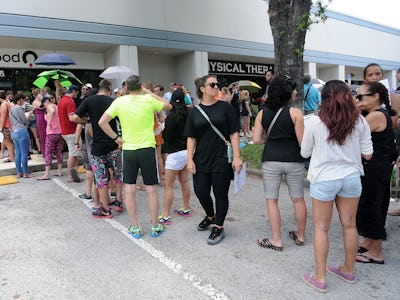 Getty Images / Gerardo Mora
After 49 people were murdered at an LGBT nightclub in Orlando on Sunday morning, people lined up around the country, but particularly in Orlando itself, to donate blood to help more than 50 others wounded in the shootings. The demand for blood was so intense that reports filtered out that a local blood clinic was lifting its ban on donations from men who have had sex with other men within the past year. Though the reports turned out to be false, the moment highlighted the reality that the laws of the United States still prevent sexually active gay men from donating blood.
The ban goes back to the 1980s when HIV was rampant in the United States, and we were only just beginning to understand the modes of transmissions. Testing was in its infancy, and tragic incidents of people being infected by the disease during a blood transfusion were almost common. The Federal Drug Administration began rejecting blood donations from all men who had ever had sex with another man. The prohibition was originally indefinite, meaning men who had sex with men were permanently barred from donating, but last year the FDA lowered the restriction to a single year.
The one-year ban on donations still effectively prohibits gay men from ever donating blood. The ban's defenders insist that gay men are at higher risk of HIV infection, and our testing methods are still not advanced enough to justify taking the risk. But the blanket prohibition does not take into account the range of sexual behaviors and stereotypes all gay men as engaging in risky, unprotected sex that does carry with it higher rates of infection. In reality, many gay men have sex in low-risk, monogamous settings, or while using contraception and receiving regular screenings.
Lifting the ban altogether is not radical and reflects better science than the current prohibition. Australia recently ditched a similar 12-month deferral period, and statistical analysis has revealed no increase in HIV infections through blood transfusions. HIV and AIDS remain incredible scourges, but discrimination against gay men, as evidenced by the shooting in Orlando, also remain constant components of American society. If the fear of being gunned down while out on a Saturday night was not enough fear for the gay men of America, legalized discrimination certainly does not diminish the sense that we have created a second-class of citizenry.