Everything you need to know about the Valheim Hearth and Home update
Building and cooking are about to become a lot better.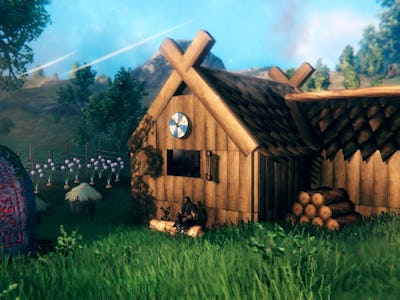 Valheim was one of the hottest games of early 2021. Since its launch in February, the survival game has garnered over 8 million players. While the game has received fairly consistent patches to address bugs and add new features, the Hearth and Home update will deliver a more significant expansion.
At Gamescom 2021 Opening Night Live in August, developer Iron Gate Studio revealed more info about Hearth and Home. Here's everything we know about it — and about Iron Gate's plans for future Valheim patches.
When is the Valheim Hearth and Home release date?
Iron Gate and Coffee Stain plan to release the Hearth and Home update on September 16, 2021. Hearth and Home will come about seven months after the game's early access launch, which is a significant wait for a major update.
It took so much time is because the team was focused on polishing the game first, as Iron Gate co-founder Henrik Törnqvist explained in an interview with Wired earlier this year.
"I would like to state for the record that we don't plan on doing new content until we ourselves are happy with the current state of the game that is for sale, i.e., for the foreseeable future," he said. "We will try to get as many bugs squashed and issues sorted as possible."
Is there a Valheim Hearth and Home trailer?
Yes, there is! Coffee Stain confirmed the update's release date via a trailer during Gamescom Opening Night Live on August 25, 2021. It's a beautiful animated trailer showcasing a lone warrior's adventure. Check it out below:
What will Valheim Hearth and Home add?
The main focus of Hearth and Home is on the house-building and cooking aspects of Valheim. For example, the developers reworked the food system to include multiple kinds of food that can specifically restore and increase the player's health or stamina. The developers also buffed tower shields to have more knockback, while players can use the Buckler to parry attacks.
Players will also be able to build and craft new items, like window hatches and butcher tables. Some of these will use new building materials like Darkwood. A treasure chest item is also getting added, so players will have an easy way to store gold. It's not an expansion-level update, but it's making some core tweaks to the gameplay system to make Valheim more engaging to play.
"One of the most exciting things we saw when we first opened the gates of Valheim was the incredible creativity of the community, and we immediately wanted to give players even more power to express themselves and create the homestead of their dreams," Törnqvist explained in a press release about the update.
What is the Valheim updates roadmap?
Hearth and Home is just the first of many intended updates for Valheim. In the press release about Hearth and Home's release date, the developers promised that more updates were on the way for the game.
Iron Gate released a roadmap for the game's post-launch additions all the way back in February. It contained 4 major updates, and so far, Iron Gate appears to still be following it. After Hearth and Home, players can expect the Cult of the Wolf, Ships and the Sea, and New Biome - Mistlands.
Törnqvist explained to PC Gamer that Cult of the Wolf will focus on exploration and combat, Ships and the Sea will add more ship customization and improve the Sea Biome. The Mistlands update will add another area for players to explore with new enemies and a new boss for players to fight.
Other than that, the roadmap also says that the developers would eventually like to add multiplayer interaction, combat improvements, moon phases, tar pits, Svartalfr Brigands, more locations, an expanded vendor inventory, a Sandbox mode, and Munin to Valheim.
While the small development spent a long time fixing bugs, players can expect a wealth of new features to come to Valheim, starting with Hearth and Home.
Valheim is currently in Early Access on PC.
This article was originally published on