Super Nintendo World Has a Super Freaky Secret Hidden in Plain Sight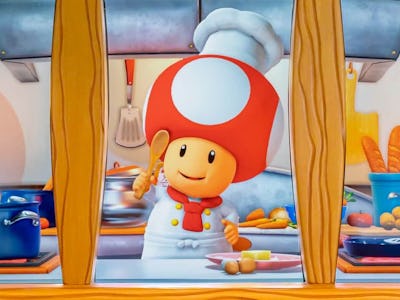 Universal Studios Hollywood
Super Nintendo World is a magical place painstakingly built to make you feel like you've stepped into a Mario game. Every part of the Nintendo theme park is built around the idea of "immersion," and that includes your sole dining option, the Toadstool Cafe. The cafe seems like a cheery little place on the outside — but when you look at the menu, things suddenly take a dark turn at Super Nintendo World.
For decades, the Mario games have left us with an uneasy question — what are those mushrooms he eats? Power-Up and 1-Up mushrooms look suspiciously like the smiling Toads that inhabit the Mushroom Kingdom, and Mario games have never really provided a clear answer in that respect.
With that in mind, we get to the menu of the Toadstool Cafe, which is loaded with dishes that contain mushrooms. Here's an overview via Universal's official site.
Super Mushroom Soup - Creamy mushroom soup with Super Mushroom crackers.
Mario Burger - All beef patty, bacon, mushrooms, lettuce, tomato, and American cheese served on a brioche bun with a side of truffle French fries.
Super Star Chicken Salad - Romaine and cabbage mix, grape tomatoes, and mushrooms tossed in creamy mushroom truffle dressing topped with parmesan Super Star, star croutons, and grilled chicken
Fire Flower Spaghetti & Meatballs - Spaghetti with mushroom marinara sauce, meatballs, Fire Flower parmesan crisp, shaved parmesan, and chopped parsley
The gimmick of the cafe is that it's a bunch of Toads preparing your food, but where the heck are they getting those mushrooms from? Are Toads cannibals, who savor the shroomy flavor of their own flesh?
Obviously, these dishes sound and look delicious. (We can confirm firsthand that the spaghetti is very tasty.) But if you're buying into the immersion of the park, it all feels a bit questionable.
While you're dining in the cafe the walls are adorned with little videos of the Toads preparing your food; cooking up burgers, boiling soup, and generally running around the place like chickens with their heads cut off. The overly cheery demeanor of the Toads only makes the whole thing even more unsettling, as they gleefully go about cooking up their wee brethren.
The Toads have always seemed at least a little bit not right, but Chef Toad, the head of the cafe, might just be one of the most devious villains in all of the Mario franchise. Is all this to say you shouldn't visit the Toadstool Cafe? Not at all. The desserts, in particular, are both beautiful and delicious. But if you order something with mushrooms just keep in mind where chef Toad is sourcing those ingredients.