Studio Élan on Doing Romance Right in Video Games: "Fans Want Nuanced, In-Depth Stories"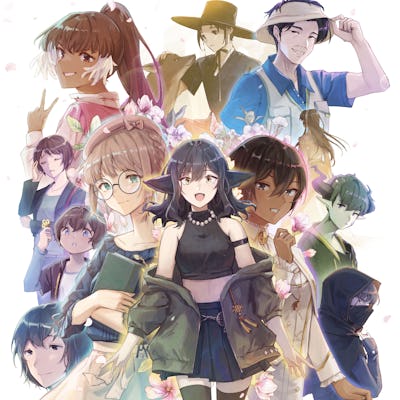 There is no lack of romance in video games, but there is a lack of romance done well. While franchises like Mass Effect, Dragon Age, and Persona feature romantic relationship options with several NPCs, each franchise gamifies love and depersonalizes it in a way that's simultaneously satisfying and alienating.
Complete this task, and earn more love from the NPC of your choice. Shower them with gifts. You'll eventually discover love, and sometimes sex. It's not only simplistic, but it de-emphasizes the emotional weight of love and romance.
Yet in the indie space, love is thriving. Smaller teams are creating more inventive and more real portrayals of romance, ones that are also more inclusive than much of what is found in the larger games industry. Among the most noteworthy is Studio Élan, a small studio dedicated to telling stories about queer women, long an underrepresented part of the gaming community.
Josh Kaplan's first game, Highway Blossoms, sees a young girl named Amber gradually fall in love with her friend Marina in the American Southwest. Only a few years out of high school himself at the time, Kaplan wanted to see more yuri visual novels (a subgenre that focuses on female romantic relationships) in the space. So he co-wrote his own.
"In 2016, there weren't a whole lot of yuri visual novels available in English, especially on Steam, and the game ended up being unexpectedly successful," Kaplan tells Inverse. "It found an audience of primarily LGBT readers who appreciated what they felt was a more realistic approach to same-sex relationships."
Inspired by the response to Highway Blossoms, Kaplan founded Studio Élan. Élan means a feeling of energy, life, and vigor; it's a feeling the team imbues its games with.
"At the end of the day, [our audience] wants realistic queer relationships in games."
Studio Élan has remained true to Kaplan's mission, producing a large catalog of yuri visual novels under its belt in the years since.
One of the striking things about their work is the prominence of female characters, something the rest of the industry could still stand to learn from.
"You see a lot of women happy with other women in our key visuals," says Arimia, Élan's Community Manager and Marketer. "It really resonates with our audience of women loving women."
The games of Studio Élan focus on these queer stories while also having a sense of magical realism. Heart of the Woods, Studio Élan's first major release post-Highway Blossoms, focuses on a supernatural investigation. It's also a remarkably honest portrayal of what it feels like to deal with a deep sense of isolation from those around you. The game received critical praise and further expanded the studio's audience.
And that audience is hungry. There's substantial demand for yuri visual novels, and yet Studio Élan is one of the few developers out there meeting it. Steam reviews for the company's games have hundreds — sometimes thousands — of very and overwhelmingly positive reviews on the platform, and the studio's Twitter has 11 thousand followers.
Arimia says that reaching Élan's audience is a relatively easy endeavor because, "at the end of the day, they want realistic queer relationships in games."
That word — realistic — gets thrown around in the games industry often to describe any number of praise-worthy aspects of a game. In its most literal sense, many big-budget AAA games tout realistic graphics as a major selling point, but you can also find realism in the performances and emotions conveyed by a story, like romance.
Visual novels have a long history with romance in games and are often interlinked with dating sims. But "badly implemented romance can be worse than none," points out Kaplan.
To avoid this, Studio Élan makes romance the top priority. "We approach our games with the mindset of telling the story first," says Adirosa, Game Director of Studio Élan's most recent release, November 2022's Please Be Happy. "We actually sometimes just write one version of the story and then add in the choice afterward! They feel less like the correct choice and the wrong choice, and more just different ways to approach a situation."
Please Be Happy follows Miho, a fox born in historical Korea who finds herself becoming more human in the new land of Wellington, New Zealand. There, she eventually accepts the help of two women, Juliet and Aspen. While there is a mystical element to the game, the core narrative is about Miho's search for acceptance, as well as learning to live her own life. Aspen and Juliet help her learn to define her identity. They're also both romanceable.
"Representation of all types is very important to our fans ... [and] they know that it's important to us too."
For Adirosa, it is important to use these stories to show differing perspectives that help people understand each other, stories that normalize the reality of how people live in our world. "Please Be Happy was actually strongly based on my own experiences as a second-gen Korean immigrant in New Zealand," shares Adirosa. "So, I can understand the desire to see yourself in the media that you love. There's not an overflowing amount of media that reflects my experiences."
With that in mind, Please Be Happy sought to create a world where people of various ages, gender, and places of birth could all exist in a positive way.
"Representation of all types is very important to our fans, not just when it comes to sexuality but to other parts of character identity as well," adds Arimia. "They know that it's important to us too."
Since its founding, Studio Élan has also created a small publishing wing called Bellhouse that it uses to promote titles not directly made by Studio Élan. Currently, there are three games under the Bellhouse umbrella. For Kaplan, Bellhouse is a way to leverage Studio Élan's platform to support other creators making content predominantly for queer women.
"The primary goal is just taking games that we think are neat and helping to get more eyes on them," he says. "We've had a lot of help and unique opportunities that got us to where we are, and we try to pay that forward as much as possible."
Many of these projects are non-commercial — and therefore free-to-play on the studio's Steam page.
When asked what the rest of the games industry at large can learn about representing romance from the visual novel community, and Studio Élan specifically, he responded, "I hope it shows that fans want nuanced in-depth stories."
"The yuri genre has always been evolving, and every individual work is created by someone with their thoughts and ideas," says Adirosa. "It's hard to define what 'the genre' is at this point when there's such a wide spread of stories being told."