Chill Out! These Are the 10 Most Relaxing Nintendo Switch Games
No fail states, just vibes.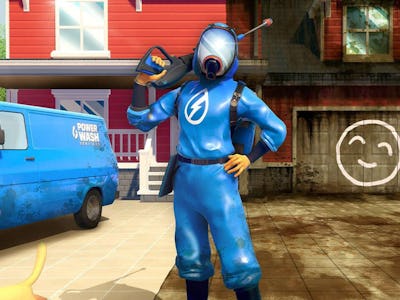 Square Enix Collective
Video games are sometimes challenging and stressful, requiring precise timing to master certain experiences. While there's absolutely an audience for these types of games, many players would rather enjoy relaxing experiences — instead, throwing stress and frustration out the window. With that in mind, Nintendo Switch is a console suited for many different games since it's so versatile, with plenty of hard-hitting challenges, as well as relaxing adventures with no combat. But which are the best? Here are 10 essential chill games on Nintendo Switch for you to kick back and relax.
10. Animal Crossing: New Horizons
Arguably the epitome of "chill," Animal Crossing: New Horizons serves as a virtual vacation from the comfort of your own home. In it, you can completely develop your own island, while customizing your home, outfits, and pretty much anything else as you see fit. Better yet, take a trip to another player's island to gather inspiration for your own. It's cute, charming, and easy to get into.
9. Unpacking
What's fascinating about Unpacking is the refreshing way it tells its story — prioritizing fun gameplay in the process. In it, you must unpack items into different rooms over the years, and as you do, you learn more about the protagonist, as each object triggers a memory.
8. Coffee Talk
In Coffee Talk, you play as a barista who runs a coffee shop, and the main gameplay loop requires you to make drinks and chat with the customers. As you do, you find out more about the game's colorful cast of characters, giving you a compelling reason to stick around. The drink-making mechanics are fun, yet simple, requiring you to follow the customer's requests. It's just as chill as visiting your favorite coffee shop in real life.
7. PowerWash Simulator
Cleaning all the dirt and grime from houses and other mundane objects might sound boring, but PowerWash Simulator is anything but. This game is remarkable, excelling at placing you into a zen-like state. Upon starting a mission, you might be overwhelmed by the sheer amount of filth you need to clean, but before you know it, you'll find yourself captivated, thanks to its hard-to-put-down gameplay loop.
6. Firewatch
Firewatch is a game that focuses on narrative more than anything. Throughout its 4 to 5-hour runtime, the game excels at subverting expectations, placing you in the shoes of a fire lookout in the Shoshone National Forest. You'll explore the forest, uncover its secrets, and get thrown into gutwrenching situations that will surely stick with you after you finish.
5. A Short Hike
In A Short Hike, you play as an anthropomorphic bird who must climb to the peak of a mountain to get cellphone service. One of the best things about this game is that — as its name suggests — it's short, and can be finished in around 2 and a half hours, making it a great bite-sized experience. It features a gorgeous pixel art style, easy-to-understand gameplay, and some of the best video game music in recent memory.
4. Night in the Woods
Revisiting your hometown after college is often a rollercoaster, and Night in the Woods perfectly encapsulates what it's like. In it, you play as a cat named Mae, who is tasked with uncovering the secrets of her hometown. The art is beautiful and its gameplay is approachable, but the real draw is the dialogue, which features some of the most believable conversations ever written for a video game.
3. Gris
While Gris does prioritize its puzzle-platform gameplay, it never feels overly challenging or obtuse. In fact, Gris seems like it hones in on art and beauty more than anything, emphasizing its minimalistic style as you jump from platform to platform. Even though gameplay is a focus, Gris also pulls at your heartstrings as it tackles grief in such smart ways.
2. Abzu
Many games on this list are designed with exploration in mind, but Abzu is the only one that sends you into the vastness of the ocean. Despite this, the game features a linear format, allowing players to explore without being overwhelmed. Tying everything together is Abzu's stunning art that pops from the screen thanks to its vibrant colors.
1. Stardew Valley
Stardew Valley is similar to Animal Crossing, but it does enough to stand on its own. For starters, it leans more into the farming aspect, and even allows you to fall in love with other in-game characters. It's easy to pick up and features a rewarding gameplay loop that never feels like work. It's refreshingly open-ended, so you can become a cheese baron, a vintner, or a gem miner — or anything else that takes your fancy.
It's cozy, with an emphasis on relaxation above all else. There's a reason Inverse called it "the best chill game ever."