Everything you need to know about Monster Hunter Rise
This one's got a cat and a dog.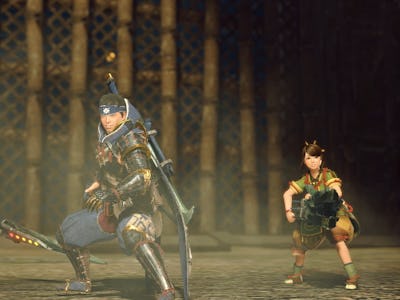 A brand new Monster Hunter is rushing to a console near you. Monster Hunter Rise is coming exclusively to the Nintendo Switch. The new game combines the home experience with the communal feeling of hunting monsters with your pals.
Rise comes just as Monster Hunter is still riding high in popularity from Monster Hunter: World and the so-so Monster Hunter film. In the newest entry, you'll find new traversal options and a swanky Japan-themed setting.
Here's everything we know about Monster Hunter Rise.
But first: How did gaming get you through the pandemic? We want to hear from you! Take this quick Inverse survey.
When is the Monster Hunter Rise release date?
Monster Hunter Rise will launch on March 26, 2021 for Nintendo Switch.
Is there a trailer for Monster Hunter Rise?
Yes. You can watch it below.
The trailer sets up Monster Hunter Rise's story. The area you're defending has been overrun by Monsters, bringing them to the homefront. Specifically, they're rampaging in your village. In addition to traditional hunting, you'll have to defend your home in a tower defense fashion from incoming monsters.
The trailer shows a few of the monsters that will be featured in the game like the spider-like critter, Rakna-Kadaki, a new monster that resides in a volcano. Almudron, a mud-spewing creature is another new monster are other new monsters. Then there's the wyvern Basarios, which is returning from previous entries. Volvidon is also returning.
The trailer concludes with more imagery from the new area. It reveals that the two shrine maidens will be able to lend you a hand in combat.
Is there Monster Hunter Rise gameplay?
Nintendo showed a gameplay overview as part of a "Monster Hunter Direct" that features a number of different clips. You can watch the entire Direct presentation below.
Adding the Wirebug has vastly opened up the world. You can also now head on quests with a new creature called a Palamute. They double as both a mount and an ally for combat that will attack foes. The Palamute is the canine analog to the longtime feline Monster Hunter buddy, the Palico.
When playing alone, you're allowed to take two buddies on every quest. You can bring along both a Palico and a Palamute or double up on one or the other. Who wouldn't want two dogs following them? (Editor's Note: A cat person.)
What new monsters are in Monster Hunter Rise?
As with every Monster Hunter game, nothing is more exciting than learning about all the new critters that will fall by your blade. We currently know about four new monsters that will be available in MHR.
Magnamalo – A Fanged Wyvern that relentlessly attacks foes. Magnamalo is also MHR's flagship monster.
Aknosom – A fiercely territorial Bird Wyvern.
Great Izuchi – A Bird Wyvern whose tail has evolved into a scythe-like shape, which it uses to attack its prey.
Tetranadon – An amphibian easily recognized by its gigantic, rotund body. It is extremely gluttonous and swallows everything that moves.
What monsters will return in Monster Hunter Rise?
Capcom has yet to officially announce any returning monsters for MHR. However, a reddit leak suggests that we could see quite a few fan-favorite critters return. The poster claims that some of the returning critters will be Arzuros, Nerscylla, and Tobi Kadachi.
Are there pre-order bonuses for Monster Hunter Rise?
Yes! If you pre-order Monster Hunter Rise you'll receive three goodies.
Palamute Retriever Costume layered armor (changes appearance)
Palico Forest Cat Costume layered armor (changes appearance)
Novice Talisman: Helps your stats early on in the game
Are there amiibo for Monster Hunter Rise?
Yes! There are three amiibo available for Monster Hunter Rise. You can purchase amiibo based on the Palamute, Palico, and Magnamalo.
These amiibo will be exclusive to different stores depending on your region.
US: GameStop
Canada: EB Games
Europe: My Nintendo Store
Is there a Monster Hunter Rise deluxe edition?
Of course! What game would be complete without numerous tiny things that you can miss for not purchasing something slightly more expensive?
You can purchase a deluxe edition of MHR for $70. In addition to the base game, MHR comes with these bonuses:
Kamurai layered armor set
Shuriken Collar Palamute layered armor piece
Fish Collar Palico layered armor piece
Samurai pose set
Kabuki face paint
Izuchi Tail hairstyle
Gestures (4 Jumps)
There's also an MHR collector's edition available for $99. The collector's edition comes with everything included in the deluxe edition and these additions:
Kamura Mark – enamel pin
A Magnamalo amiibo
10 Monster Hunter Rise stickers
Will Monster Hunter Rise have multiplayer?
Multiplayer will return in Monster Hunter Rise. You can slay monsters either locally or online in groups of two to four players. When playing multiplayer, each player will only be allowed to bring one buddy along.
Monster Hunter Rise will release on March 26, 2021, exclusively for Nintendo Switch.
This article was originally published on