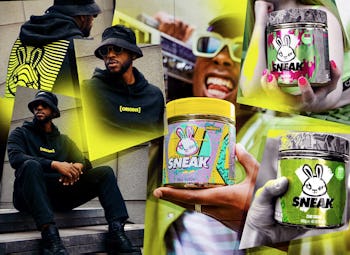 Gaming
This Zero-Sugar Energy Drink Has Developed A Cult Following Among Gamers
The gaming world and energy drinks have had a long, storied relationship — in fact, the first caffeinated soft drink marketed to gamers can be traced back to 1996. While there have been plenty of energy drinks geared toward improving the focus and reaction times of gamers, it can be hard to find ingredients that give you a sustained boost in energy without the jittery, over-caffeinated hangover. One exception is Sneak, a zero-sugar, low-calorie energy drink that comes in both canned and powdered form and includes vitamins, minerals, and plant-based ingredients known to help enhance energy levels.
The energy drink has garnered thousands upon thousands of five-star reviews across the internet and has found a loyal fanbase in the form of Sneak's growing Discord and Facebook communities, which boast over 20,000 active members.
What Is Sneak?
Sneak sets itself apart from many other energy drinks on the market in that it doesn't have sugar but it does have a variety of vitamins, minerals and amino acids. First debuted in 2018, Sneak comes in 12 flavors, like the best-selling Blue Raspberry, Cherry Bomb, Bubblegum Millions, and Tropikilla (the latter of which "tastes like fruit salad," according to one reviewer).
Each serving contains 150 milligrams of caffeine, which means you're getting about the equivalent of two cups of coffee (the average 8-ounce cup of coffee typically contains between 80 to 100 milligrams). Additionally, it includes active ingredients like L-tyrosine, which can enhance mental acuity under stress, and L-theanine, which may help ease anxiety and stress. The drinks also boast vitamin B12, potassium, thiamine, and more. These ingredients are formulated to give you streamlined, lasting energy without the shakiness of other energy drinks.
Of course, like with most things in life, moderation is key. An energy drink isn't a substitute for getting your daily dose of vitamins and minerals from real foods, or a long-term solution if you regularly experience low energy. It's always a good idea to check in with your doctor before making a change to your routine — especially if you have any health concerns.
Also important: The American Association Of Pediatrics advises against energy drink consumption for kids and adolescents. If you're pregnant or nursing, it's also advised to avoid energy drinks. And, while Sneak drinks are free of sugar, the brand recommends talking to your doctor first if you're diabetic.
How Does Sneak Work?
Sneak is sold in three forms: sachets, tubs and cans, though Sneak in canned form isn't currently available in the United States. If you want to try some flavors before committing to a bigger tub, Sneak has a starter pack that comes with nine sachets — each sachet is a single serving — so you can experiment with flavors like Bubblegum Millions and Neon Punch to find what you like. You'll also get a free shaker with your starter pack, which is how you consume Sneak's powder. Mix a single sachet with 300 to 400 milliliters of water, shake it up, and you're ready to go.
Sneak's Energy Tubs are basically just bigger versions of the sachets and contain 40 servings per tub. At about $40 each, that breaks down to just $1 per serving. Finally, there's the canned version of Sneak if you prefer to skip the mixing and shaking. The cans also boast zero sugar, 150 milligrams of caffeine, and a quirky selection of flavors. The main difference is that the drink in canned form is carbonated.
Now, you can also add Sneak to your morning routine with the recent launch of the Breakfast Orange flavor, the brand's take on the orange juice you start your day with. The Breakfast Orange Bundle comes with a tub of the orange flavor, plus a "Cereal Killer" shaker and a box of Sneak's new cereal, a Fruit Loops-esque blend of mixed fruit and honey-flavored crunch. The vibe of the Breakfast Orange packaging is a gamer's take on "Saturday morning cartoons" nostalgia, which I'm very into. It's also worth noting that if you order over $70 worth of Sneak products, you'll be able to get free shipping.
The Sneak Community
Beyond the energy drink itself, Sneak has grown a loyal fanbase in the four years it's been around. With over 20,000 active members on Facebook and Discord, and over 200 Sneak ambassadors, the brand has developed a robust community. On its Facebook and Discord communities, Sneak does exclusive product drops, giveaways, and more. Many in the gaming world — and big names from other creative industries — have embraced Sneak, such as YouTuber and Manchester United presenter Mark Goldbridge.
My Experience Trying Sneak
I'll be honest, I'm not a big energy drink consumer. The flavor of most energy drinks is too sweet and chemical-tasting for me, and I worry about feeling too wired. Sneak proved to be a different experience. I was curious about the Tropikilla flavor and shook it up with about 400 milliliters of water. While it was fruit juice-level sweet, it wasn't overbearing. It also felt more refreshing drinking it mixed with water instead of a caffeinated version.
I tried it the morning after a fairly sleepless night, and it made a big difference in my energy level. Whereas normally I would have felt a quick spike followed by a slump after a cup of coffee, my shaker of Sneak kept my energy levels up and consistent for the afternoon. I felt a tinge of that amped-up feeling not long after drinking it, but it mellowed pretty quickly into a balanced stream of energy.
What Reviewers Are Saying
If you're curious about how Sneak's flavors actually taste, or how the drinks themselves work, fans have left thousands of reviews — with many of them heaping praise on the brand.
"Always landing new merch! And mixing up [their] flavours and shakers. Great company that cares about their customers and actually communicates and it shows!" — Bethan D.
"I discovered Sneak during lockdown when I wasn't able to go out and buy energy drinks. It's so convenient and I love the fact I can just order online. I feel much better since mostly drinking it - I do still have other energy drinks but nowhere near as often, and I can tell the difference!" — Lauren C.
"Deciding to try Sneak was one of the best things I ever done. [...] As for gaming, I seem to be doing better and can concentrate more on what I'm doing (I've even managed to win crowns on Fall Guys and that's never happened before) so this is definitely helping to up my gaming. As for work, I'm able to concentrate more and keep focused on my daily tasks." — Jonathan C.
Studies referenced:
Colzato, L. S., Jongkees, B. J., Sellaro, R., & Hommel, B. (2013) Working Memory Reloaded: Tyrosine Repletes Updating in the N-Back Task. Frontiers In Behavioral Science, https://www.ncbi.nlm.nih.gov/pmc/articles/PMC3863934/
Hidese, S., Ogawa, S., Ota, M., Ishida, I., Yasukawa, Z., Ozeki, M., & Kunugi, H. (2019). Effects of L-theanine administration on stress-related symptoms and cognitive functions in healthy adults: A randomized controlled trial. Nutrients, https://www.ncbi.nlm.nih.gov/pmc/articles/PMC6836118/
Benjamin, H. J. & Schneider, M. B. (2011) Sports Drinks and Energy Drinks for Children and Adolescents: Are They Appropriate?. Pediatrics, Official Journal Of The American Academy Of Pediatrics, https://doi.org/10.1542/peds.2011-0965
This article was originally published on