Everything you need to know about Fortnite Winterfest 2021
It's beginning to look a lot like Winterfest.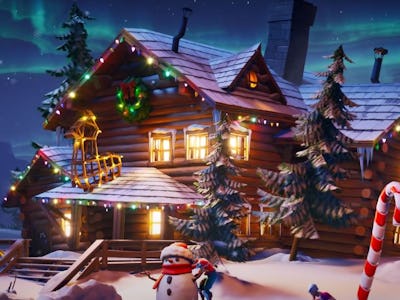 Epic Games
Fortnite's Winterfest 2021 festivities are set to begin December 16, and most of the essential details about the event have already leaked. Below, we outline all you need to know about Winterfest 2021 including its start and end dates, free skins, and the full list of presents you'll be able to open during the celebration. Want to get a new Peely or Matrix-themed skin for free? Here's what you should know.
When are the Fortnite Winterfest 2021 start and end dates?
According to data-mines Winterfest 2021 is expected to be available in-game from December 16 through January 6, 2022. While only 14 days of presents are believed to be featured during the event, Fortnite's developers at Epic Games seem to be giving players a little extra time to open them.
What are Fortnite Winterfest 2021 present leaks?
Similar to Winterfest events of the past, a highlight of the 2021 iteration is the free presents players will be able to open by visiting the virtual Winterfest Cabin at the lobby screen.
While Epic would presumably prefer to keep its list of presents hidden to preserve the surprise, Fortnite leaker iFireMonkey has data-mined the complete list of gifts that will be uncovered over the 14-day span. You can also watch the video above from EveryDay FN on YouTube to see what the cosmetics look like in action.
Foundation Contrail
Holiday Sweater Wrap
Winter Lights Wrap
Winterfest 2021 Spray
Fortnite x Matrix Glider
Associated with each present there are also specific sounds.
Horn
Cuckoo
Random Set (one-seven)
Frozen
Old Game
Ninja Dance
Clap
Cat
Boogie
Beep
Sleigh Bells
Glass Breaking
XP Presents
Ginger Bread
New Years
Snow Globe
Chiptunes
Click the links above to see the ones that have renders already.
Fortnite Winterfest 2021 free character skins
As described above, there are two Outfit skins you'll be able to earn by playing through the Winterfest 2021 festivities. These include a Polar Peely skin and a Krisabelle skin You can check out the designs below.
What are the Winterfest 2021 challenges?
The Winterfest Challenges unlock daily starting December 16, but here's the full list of objectives you can expect to see over the next few weeks. They expire on January 6.
Warm yourself at the Yule Log in the Cozy Lodge (one)
Deal damage to opponents with the Snowball Launcher (50)
Collect Toy Biplanes at Condo Canyon, Greasy Grove, or Sleepy Sound (three)
Travel while having icy feet (200)
Fly with a Chicken (200)
Dance for three seconds at Crankshot's Cabin and Sgt. Winter's Workshop (two)
Ram a snowman with a vehicle (one)
Use a Holiday Presents! item (one)
Search a Treasure Ches under a Holiday Tree (one)
Eat food in a single match (five)
Hide for 10 seconds as a Sneaky Snowman within 25m of an opponent (10)
Light a campfire while having icy feet (one)
Travel 1,000 meters on a Crankshot Quadcrasher
Destroy Holiday decorations (10)
Give opponent icy feet with a Chiller Grenade (one)
For completing seven Winterfest Quests you'll get the Snowmando Board Glider, and you'll get the Frosty Back Bling for completing 10. The Glider includes two different styles called the Ice King Board and Llamadelica Board. We expect the challenges will unlock each day at 9 a.m. Eastern.
Is there a Winterfest 2021 trailer?
Yup! you can watch the 30-second clip below.
What are the Winterfest 2021 items?
Some of the challenges listed above may have already spoiled this suprise, but there is a handful of returning holiday-themed items that players can take advantage of in Battle Royale while Winterfest is active.
Chiller Grenades
Snowball Launcher
Holiday Presents!
Sneaky Snowman
Is there anything else new during Fortnite Winterfest 2021?
Yes! Quite possibly the biggest change to experience during the event is how Winterfest interfaces with Fortnite Creative. Change your queue at the lobby screen, and you'll see a bunch of wintry festivities to devour. Of particular importance is the Winterfest tab, which features fan-made minigames made by the scene's most talented creators. Play these modes for two hours during Winterfest and you'll get:
Ol' Cracky Emoticon
Llamistletoe Spray
Merry Marauder Banner
2022 New Year's Banner
While not quite festive, there will be some szweet bundles headed to the Item Shop on December 16 at 7 p.m. Eastern as well. The Spider-Man (No Way Home) and MJ (No Way Home) Outfits will be available to buy with your spare V-Bucks.
This article was originally published on