How to cut power to control panels for Fortnite's Week 10 Resistance Quest
All three control panels are found in Command Cavern.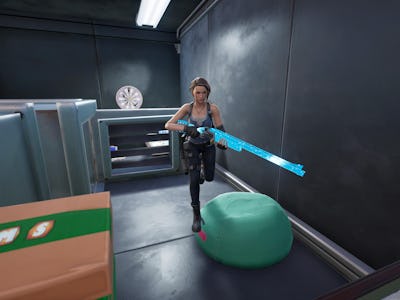 Epic Games
The Fortnite Resistance quests for week 10 are live now, requiring you to visit specific locations on the map to complete objectives. One quest, in particular, sends you on a mission to destroy three control panels inside Command Cavern, but since the game doesn't specify where they are, it can be tricky to find them. In this guide, we'll walk you through finding the locations of all three control panels as part of the week 10 Fortnite Resistance quest.
How to cut power to control panels in Fortnite
Remember, with these quests, you need to have completed all other Resistance challenges before being able to pursue the next ones. To be more specific, you first need to finish weeks 1-9 to begin the week 10 quests — otherwise, the objectives won't appear on the map.
Below are the locations of all three control panels in Command Cavern.
Control Panel 1
You can tackle these in any order, but it's easiest to start from the southernmost entrance (opposite of the airship) first. Make your way inside the base, walk up one flight of stairs, and you'll see a vent on your right, next to a bench with a red toolbox.
Enter the vent, follow it around, and take the first left. The control panel is inside this little room, close to multiple computers, Slurp barrels, and a chest.
Control Panel 2
Starting at the south entrance again, make your way forward this time, past the set of stairs until you reach the main open room. On your left, you'll see a drill tank, so take this path and then wrap around to the left inside an area with a satellite dish on top.
You'll see a station with yellow and red air tanks, with a vent right next to it. Enter the vent, wrap around to the right, and you'll find the next little room on your righthand side.
Control Panel 3
For the final control panel, start on the south entrance once more, enter the main room, and then head northwest towards another drill tank. Here, you'll see a large structure with a path that leads to rooms with lockers in them.
As soon as you enter the structure, you'll see one more vent on the right, which leads to the final room with the control panel in it. It's on the right side.
Fortnite Resistance week 10 quests
The full list of week 10 Resistance quests is as follows:
Patch The Imagined Into a Loudspeaker at Sanctuary (1)
Collect Doomsday Control Keys From High Security IO Locations (2)
Cut Power to Control Panels Inside Command Cavern (3)
Set Up a Generator Near the Holotable Inside Command Cavern & Activate the Holotable Inside Command Cavern (1)