Everything you need to know about the Diablo 2 remake
One of the most beloved action-RPGs of all time might get the remake treatment.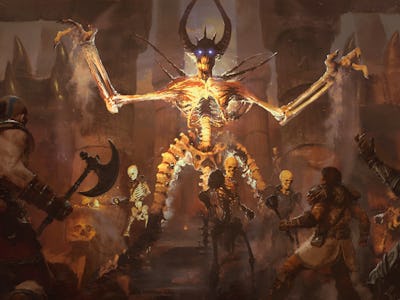 Diablo II is one of the most beloved games of the 2000s. This fantasy RPG found the perfect balance between engaging combat, a dark and dreary world, and exciting yet replayable dungeon crawling. So many games have copied this formula since its launch, but it still remains the king. More people across all major platforms will be able to experience it soon.
Even though Diablo IV is still on the horizon, Diablo 2 is getting a remaster that the developers promise won't make the same mistakes as Warcraft 3: Reforged. A brand new development team to work on it! This is everything we know about the remaster, Diablo 2: Resurrected, following its official announcement and a Q&A with the developers attended by Inverse.
When is the Diablo 2: Resurrected release date?
Blizzard has confirmed that Diablo 2: Resurrected will be released in 2021. No specific window within this year was given for it at BlizzConline. There will be multiple public tests' before launch though, so it will likely come later on this year.
Leaks for the project had given different windows for its release. Actugaming's leak from early 2020, which did get the developer and project's existence right, claimed that it would come out later that same year. Clearly, that didn't happen, though it is coming in 2021. Bloomberg also discussed the game before its reveal, but didn't give a date in its report.
The developers should take their time to polish the experience too, especially following the rocky launch of Warcraft 3: Reforged in January 2020. They seem to be doing so, and we'll get more into that later.
Is there a Diablo 2: Resurrected trailer?
Yes, there is! The game was revealed via an exciting trailer at BlizzConline.
This trailer shows the enhanced graphics as well as a couple of gameplay tweaks It also confirms that players will be able to toggle between the enhanced version of the game and the original at any time while playing. The remaster speaks for itself, so watch the trailer above if you're wondering how it will turn out!
What platforms will Diablo 2: Resurrected be released for?
Blizzard has confirmed that Diablo 2: Resurrected is coming to PC, PS4, PS5, Xbox One, Xbox Series X|S, and Nintendo Switch. You'll be able to play it on any major platform you want, which is a first for Diablo 2. If a Battle.net account is linked, cross-progression across all platforms is possible.
For that reason, versions on each platform will be identical according to Designer Robert Gallerani. "By having cross-progression, it keeps us in a box that we have to stay true to right," he explains. Still, using a controller will introduce some control differences and quirks "I predict that there will be some builds that play better on console or controller and some builds that are better on keyboard and mouse," he later added.
"With the controller, instead of tapping to do the default [target], you can hold the button down, and then you'll get a critical and can put it there. It does change the pace a little bit, and that's just because the nature of a controller is less precise than a keyboard or mouse. But we made sure that like authenticity and keeping the same game was the most important thing."
What are the biggest Diablo 2: Resurrected changes?
Fans of the original can take solace in the fact that nothing about the core Diablo 2 and Lords of Destruction is being changed in the remaster. There's no new content or major balance reworks, according to Producer Matthew Cederquist and Designer Robert Gallerani. That said, a few quality-of-life tweaks are happening.
Obviously, the game will be playable at 4K on certain consoles and run better than ever. The overhauled graphics are a 3D physically-based rendering that add new animations, textures, and lighting to the game. "Realistically, it comes down to a 70/30 rule where you want to keep the majority of that old school feel, but then 30% to make it look really, really nice," Gallerani explains.
All of the game's cinematics are also getting remade. "We've seen a lot of things where it's like, an upgraded version, just AI-enhanced and 4K-ified. It's not that. It's actually all-new scenes, all new models, like what you would expect from a Blizzard title of today," Cederquist tells Inverse. "It's sticking to the exact same timing, pacing, script. We're using the original audio, it's just been remastered. So it'll be the story, you know, but we realize that on a modern level."
Also, there are some smaller and significant tweaks, like a shared stash and toggleable gold pickup. Still, Cederquist and Gallerani made it clear multiple times that the team never wanted to stray too far away from the original game. "Things like item comparison, things like item linking in chat, those are all just easier ways to play the same game," Cederquist said. "But it is the same game running underneath."
"If you're a person who played all those years ago, you're gonna come back to Diablo 2 and it's still going to be that same game that you love," Gallerani also stated. "From that nostalgic value, there's going to be the updated stuff that we bring."
Will Diablo 2: Resurrected replace Diablo 2 on Battle.net?
The short answer is no. This won't replace the original, unlike Warcraft 3: Reforged. "For Diablo 2 from 2000 and Lords of Destruction from 2001, we actually decided to keep that in its own ecosystem," Cederquist explains. "Players who want to continue playing that version of the game, whether it be an elaborate mod or just the game itself, they can still play it."
"Diablo 2: Resurrected is in its own ecosystem with the modern Battle.net, modern security systems, updated ladders, so on and so forth, in its own thing." This is a very refreshing change for those that got burnt but Warcraft 3, but it's not the only shift.
What has Blizzard learned from Warcraft 3: Reforged's controversial launch?
By now, it's no secret that Warcraft 3: Reforged was a massive disappointment. While some improvements have been made since launch, it's clear that Blizzard overpromised and underdelivered with that remake. They changed too much and took away some of what players liked. Blizzard is keen to not make the same mistakes again.
Gallerani tells Inverse that "it's so important that we get Diablo 2 right" and points to the fact that the original game still exists and that the new enhancements can be toggled on and off as major differences from Warcraft 3: Reforged. Blizzard doesn't want to destroy a game that players love to give them a new version of it.
"One of the things that we're looking for is ever-evolving feedback from folks," Cederquist adds. "And that's why we've taken our approach here a bit different. "That's why were taking our approach a little different. We have three or four separate technical alphas, betas, and so on ...and not only experience what they did 20 years ago but just provide as much feedback as possible."
What studio is developing Diablo 2: Resurrected?
Back in May 2020, Actugaming claimed that Vicarious Visions was working on a Diablo 2 remake, though not much else was heard about this project after that. Then, on January 22, fans of that studio got very worried upon the announcement that the Activision Blizzard subsidiary would move from being a lead developer for Activision games to a support studio for Blizzard Entertainment titles.
Vicarious Visions is the developer behind the successful Crash Bandicoot N. Sane Trilogy and Tony Hawk's Pro Skater 1+2 remakes, so it didn't make a lot of sense that Activision would demote them like this. Later that day though, Bloomberg's Jason Schreier revealed the reason for the move.
Vicarious Visions is not only supporting games like Overwatch 2 and Diablo 4 but is working directly with Blizzard on Diablo 2: Resurrected because Blizzard Team 1, which made Warcraft 3: Reforged and were originally going to work on this remake, was dismantled by Activision Blizzard late last year.
The involvement of Vicarious Visions was affirmed upon the game's official announcement. While Blizzard Team 3 (the Diablo 4 development team) is still technically the leading developer on the remake, Vicarious Visions will play a major part in bringing the remaster to life as Team 3 focuses on finishing and shipping Diablo 4.
What is so important about Diablo 2?
Diablo 2 was first released for PC back in 2000, and it tasks players with taking down the hero of the previous game, who was corrupted by the Lord of Terror Diablo. This intriguing plot hook and the expanding lore are spread across several acts and an expansion, with tons of areas for players to explore.
Diablo 2 is an isometric action-RPG and the quintessential game in the genre. It establishes a balance in its gameplay as it can be quite challenging but also extremely rewarding and replayable thanks to an excellent loot system and a variety of character classes for players to try.
The game's multiplayer modes helped cement Battle.net as a great service, and many still play the game online to this day. Because Diablo 2 is so beloved by so many, it's definitely deserving of the remaster treatment. So far, Blizzard and Vicarious Visions appear to be doing a good job with it.
When is the Diablo 2: Resurrected Public Test?
Blizzard is also giving players the opportunity to try Diablo 2: Resurrected before launch. Right now, there is a PC Technical Alpha with a vague coming soon release window. Cederquist and Gallerani did not have a firm date in mind when asked when it would take place, but point players to sign up on the remaster's website.
Diablo 2: Resurrected is coming to PC, PS4, PS5, Xbox One, Xbox Series X|S and Switch in 2021.
This article was originally published on